Iran
Middle East
North America
IRGC fires underground ballistic missiles on 2nd day of massive drills
The Islamic Revolution Guards Corps (IRGC) has, in an unprecedented maneuver, fired ballistic missiles from underground launch facilities on the second day of its major naval and aerial drills in southern Iran.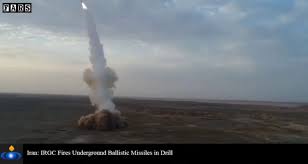 The IRGC's Public Relations Department said in a statement on Wednesday that ground, aerial and naval operations were carried out against positions of the hypothetical enemy on the second day of the final phase of the exercises, codenamed Payambar-e A'zam (The Great Prophet) 14.
The final phase kicked off on Tuesday across land, air and sea in the general area of Hormozgan Province, west of the Hormuz Strait and in the Persian Gulf. The drills involved units of the IRGC's Aerospace Division and Navy.
The statement further said the IRGC Aerospace Force applied modern tactics and military equipment to display the elite force's extensive capabilities to counter potential enemy threats.
The statement then hailed the successful firing of ballistic missiles from "the depths of the ground," which were fully camouflaged, emphasizing that such an achievement can confound the enemies' intelligence forces, and seriously challenge their calculations in case of a military confrontation.
Head of the IRGC's Aerospace Division Brigadier General Amir Ali Hajizadeh said, "For the first time in the world, we fired ballistic missiles from a location deep underground, which means the buried missiles suddenly break the ground open, without using common launch pads and facilities, and hit their targets with accuracy."
During the maneuvers, the IRGC'S Sukhoi Su-22 bombers also struck designated targets on Faror Island with winged bombs.
A vast array of smart bombs were dropped to blow up the hypothetical enemy's targets with great precision, said the statement, adding that the mock targets had been carefully designed to be much smaller in size than the actual objects.
The IRGC forces also practiced a missile combat operation by firing surface-to-surface Hormuz and Fateh (Conqueror) missiles as well as a ballistic missile at the designated targets. The air defense units also exercised pinpoint firing at certain aerial targets.
Various homegrown unmanned aerial vehicles (UAVs), including Shahed-181 (Witness-181), Mohajer (Immigrant), and Bavar (Belief), attacked and successfully destroyed their targets, while various types of anti-ship and surface (coast)-to-sea missiles were fired in the exercises.
The IRGC forces also exercised mine-planting operations, and tactics to cut off the supply lines of the hypothetical enemy.
Several units from IRGC's Navy and Aerospace Division took part in the maneuvers, which featured missiles, vessels, drones, and radars, and were designed to practice both offensive and defensive missions.
The IRGC forces were slated to conduct missile, drone and mine-planting operations against mock enemy targets during the drills. They were also scheduled to practice tactics to cut off the connection lines of enemy vessels.