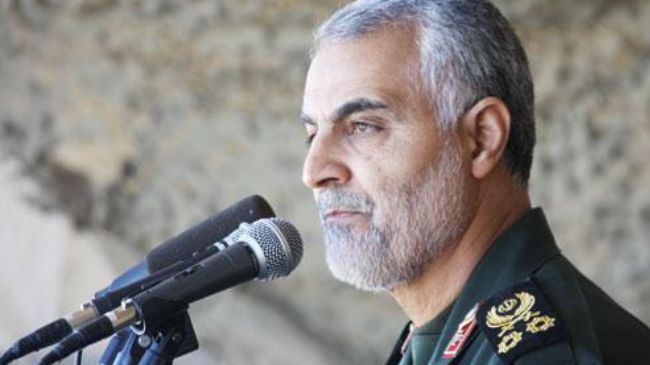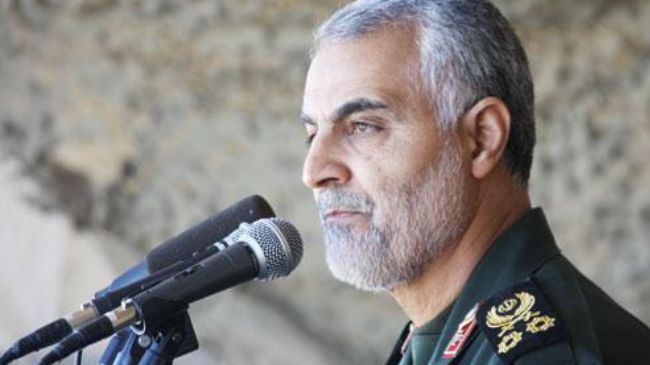 Commander of Iran's Quds Force Major General Qasem Soleimani says the country's enemies are helpless against the missile and naval capabilities of the Islamic Revolution Guards Corps (IRGC).
"Today, the enemies cannot tolerate the progress and enhancement of the Islamic Republic of Iran's military and defense power in different fields including missile [technology], the naval power of the IRGC and advances that have taken place in these fields," Maj. Gen. Soleimani said on Monday.
Over the past years, Iran has made important breakthroughs in its defense sector, attained self-sufficiency in producing important military equipment and systems and enhanced the preparedness of its forces by holding various drills.
Early in July, the IRGC test fired domestically-produced missiles during a three-day military drill codenamed the Great Prophet 7.
The tested missiles included Shahab (Meteor) 1, 2, 3, Khalij Fars (Persian Gulf), Tondar (Lightning), Fateh (Victor) and Zelzal (Quake) as well as Qiam (Uprising).
In December 2011, Iran's Navy launched a massive 10-day Velayat 90 naval exercise, covering an area stretching from the east of the Strait of Hormuz in the Persian Gulf to the Gulf of Aden.
Different classes of submarines, including Tareq and Qadir, the newest ground-to-sea missile systems and torpedoes were employed in the maneuvers.
Iran, however, has repeatedly assured other nations, especially regional neighbors, that its military might poses no threat to other countries, insisting that its defense doctrine is merely based on deterrence.