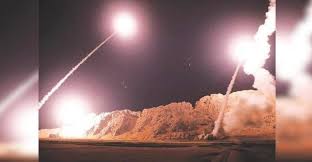 Iran's Islamic Revolution Guards Corps (IRGC) says none of its missiles were intercepted during Wednesday's heavy strike that targeted two US bases inside Iraq to avenge the United States' assassination of its senior commander, Lieutenant General Qassem Soleimani.
There have been initial reports of casualties.
Shortly after the strikes, Iranian officials advised US commanders against embarking on any new military action, warning that a more crushing response will be awaiting them. They have been urging US forces to swiftly leave the region.
In a live televised speech on Wednesday, Leader of the Islamic Revolution Ayatollah Seyyed Ali Khamenei highlighted the need for the US military presence — the source of all corruption in the region — to come to an end.
"A slap was delivered last night, but what is important is that the seditious presence of America in the region should be ended," Ayatollah Khamenei said on Wednesday.
Also speaking on Wednesday, Armed Forces Chief of Staff Major General Mohammad Baqeri called for the US armed forces to withdraw from the region immediately.
"The time has come for the evil rulers of the United States to withdraw their terrorist army forces as quickly as possible from the region."