Iran
North America
Qasem Suleimani
IRGC Quds Force Deputy Commander: Region Saved by Iran from US Fire
Lieutenant Commander of the Islamic Revolution Guards Corps (IRGC) Quds Force Brigadier General Esmayeel Qa'ani underlined that Iran prevented the US from destroying the entire region through its direct and proxy wars against the regional states.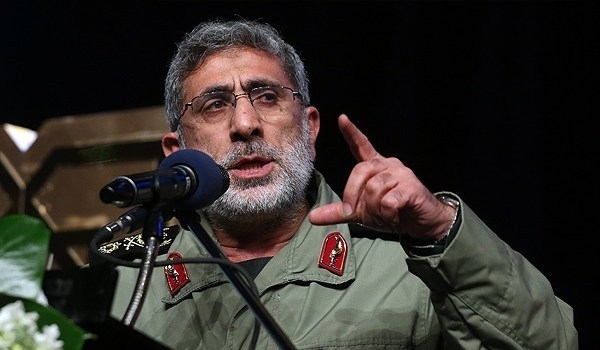 "Had it not been for the Islamic Republic, the US would have set fire to the entire region," General Qa'ani said, addressing a ceremony in the Northeastern city of Mashhad on Wednesday night.
He also underscored Iran's support for the resistance front against the US and its allies, and said, "The Iranian nation has proved itself and therefore, it influences other countries."
General Qa'ani also emphasized Iran's high defense power, and said, "The US sat to the negotiating table (in the nuclear talks) after it failed to succeed in war against the Iranian nation."
Iran played a military advisory role in Iraq and Syria to help the two Islamic nations against the terrorist groups.
In relevant remarks in 2018, former IRGC Major General Mohammad Ali Jafari asserted that had it not been for Major General Qassem Soleimani, the region would have still been grappling with Takfiri terrorists.
The top commander lashed out at US Secretary of State Mike Pompeo's "impolite rhetoric" against IRGC Quds Force Commander Major General Qassem Soleimani at the time.
"It is known to all that the unique initiatives of Qassem Soleimani saved the Islamic territories from the evil of Takfiri terrorists who were mercenaries of yours," Jafari addressed the US top diplomat, criticizing the US for instrumental use of terrorists.