Iran
Middle East
IRGC self-sufficient in production of helicopter parts: Chief commander
Iran's Islamic Revolution Guards Corps (IRGC) has become self-sufficient in the production of helicopter parts and overhauling various types of the aircraft, says the commander-in-chief of the IRGC.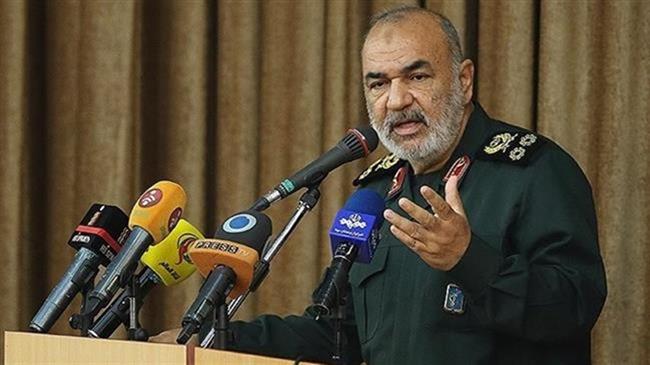 Major General Hossein Salami made the remarks while visiting a helicopter maintenance complex of the IRGC's aviation unit on Monday.
Explaining about the achievements of the IRGC in the field of helicopter overhaul and maintenance, Salami said, "During recent years, this force has added an aviation unit to its combat chart … as a result of which the IRGC's Ground Force has taken a long stride with regard to attack helicopters and has boosted its power in this area."
Stressing that the IRGC's aviation unit has become self-sufficient in many areas, Salami said, "The modernization of military bases used by this force and its overhaul centers, especially the efforts made to produce various [helicopter] parts by the IRGC aviation unit … has made us needless of procuring [helicopter] parts from other countries."
"Our brothers in the aviation unit [of the IRGC] are self-reliant with regard to training … as well as with respect to manufacturing of parts and overhauling helicopters. With regard to some helicopters, they are capable of full overhaul of those aircraft," General Salami said.
Noting that maintaining security across the country requires a variety of support services, the IRGC's chief commander noted that the IRGC's Ground Force needs helicopter support, because of its offensive defense doctrine.
Iran has taken great strides seeking to attain self-sufficiency in producing essential military equipment and defense systems in the face of decades-long sanctions and arms embargoes on the country.
The country consequently produces a wide variety of advanced weapons systems and equipment based on its own technological capabilities.
Leader of the Islamic Revolution Ayatollah Seyyed Ali Khamenei has called for a further strengthening of the country's defense power to confront threats and avoid any possible outbreak of war.
Iran has managed to "paralyze" its enemies, and has developed its own "sophisticated" means of defense in response to the enemy's use of increasingly advanced measures against Iran, the Leader told a group of Iranian Air Force commanders and personnel in Tehran in February.
Iran has made major breakthroughs in its defense sector and attained self-sufficiency in producing military equipment and hardware despite facing US sanctions and Western economic pressure.
The Islamic Republic says its military power is solely for defensive purposes against enemy threats.