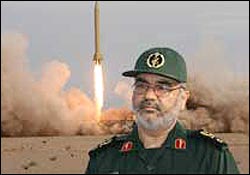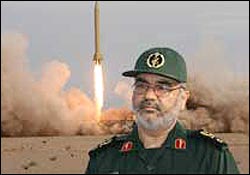 The Islamic Revolution Guards will soon reveal those who were behind the recent terrorist attack in Sistan-Baluchestan Province, the IRGC deputy commander stated here on Sunday.
The IRGC will soon shed light on the dimensions of the recent incidents, Brigadiar General Hossein Salami told the Mehr News Agency on Sunday.
He also said the policies of certain extra-regional powers have been the cause of such terror incidents in Iran's southeastern and northwestern border regions.
On October 18, a terrorist attack killed over 40 people, including five senior commanders of the Islamic Revolution Guards Corps, in the southeastern province of Sistan-Baluchestan.
IRGC Ground Forces Deputy Commander Nour-Ali Shoushtari and Sistan-Baluchestan Province IRGC Commander Rajab-Ali Mohammadzadeh were among those who lost their lives in the attack.
The commander added the IRGC will take necessary measures to bring the perpetrators of the terror attack to justice.
The terrorist group Jundullah, also known as the Rigi group because it is led by Abdul-Malek Rigi, has claimed responsibility for the attack, which was carried out in the city of Pishin, near the border with Pakistan.