Iran
IRGC Top Commander Boasts Iran's Ballistic Missile Capabilities against Aircraft Carriers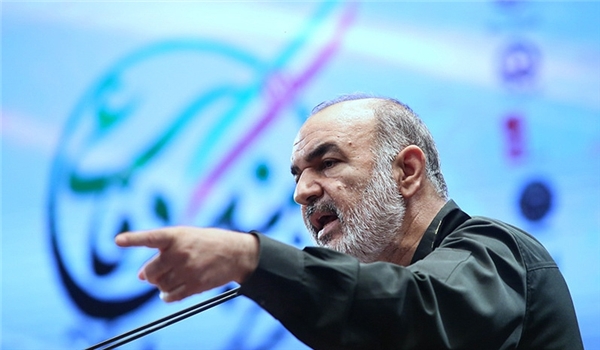 Commander of the Islamic Revolution Guards Corps (IRGC) Major General Hossein Salami reviewed the technological advancements of Iran's defense industry in the face of possible US scenarios against Tehran, reassuring that his country has successfully exhausted all enemies' capacity for various types of warfare.
"A guidance and control system capable of steering a ballistic missile to hit a mobile target is a miracle of technology which is possessed by maybe one or two countries (in the world)," Major General Salami said on Tuesday.
"Twelve years ago it happened," he added, reminding that Iran test-fired a ballistic missile in 2007 which hit a target three times smaller than a US aircraft carrier on the sea. "The aircraft carriers' scenario is over for us," reiterated the commander, reassuring that his country is capable of drowning hostile vessels in the Persian Gulf and the Arabian Sea.
He added that the country's enemies have unsuccessfully exhausted all of their capacity for various types of warfare against the Islamic Republic.
Salami said Iran's enemies had already attempted maximum pressure against Iran in every area — including economic, cultural, and political ones — to no effect.
"Today, we are a great and invincible power because we have experienced and defeated all of the enemy's scenarios," Major General Salami said. "We have been able to shatter enemy psyops and dry up the enemy's capacity for war."
He said the power of Iran's enemies was on the decline whereas the Islamic Republic's might was growing.
"Today, Iran's reach is no more confined to within its borders; today, Iran is a robust power in the region," he said.
The United States recently took a quasi-warlike posture against Iran when it dispatched an aircraft carrier strike group, a bomber task force, and an amphibious assault ship to the Persian Gulf, citing an alleged Iranian threat.
Iran said it posed no threat to anyone but would defend itself against any aggression.
Salami reiterated that Iran was undaunted.
"We are not worried by enemy intrigues and are in the last phase of the battle against it," he said. "We have received so many threats that we are saturated with them."
His remarks come in the time that the White House has repetitively announced in the past couple of week that it is mulling over deployment of more military personnel and equipment to the Persian Gulf to contain an unspecified threat posed by Iran.
IRGC Lieutenant Commander Brigadier General Ali Fadavi told FNA on Sunday that the US is in its weakest position in the Middle-East now, saying that Washington does not dare to dispatch one of its aircraft carriers to the Persian Gulf and has kept it near the Indian Ocean.
"The Americans are at present in the weakest era of their presence in West Asia throughout history and have the minimum number of warships in the Persian Gulf," Fadavi underlined.
He added that one of the US aircraft carriers (USS Abraham Lincoln) which was scheduled to move towards the region stopped in the Indian Ocean and did not enter the Persian Gulf "for the fear they felt" of Iran's power in the region.
The top commander also rejected any kind of talks with the United States, saying negotiations with Washington is "useless".
In relevant remarks earlier this month, Iranian Navy Commander Rear Admiral Hossein Khanzadi played down the "theatrical and useless" presence of the US aircraft carriers in the Persian Gulf, stressing Iran's preparedness to defend the country against any warmongering.
"Today, speaking of the dispatch of aircraft carrier to the Persian Gulf is nothing new and they are attempting to magnify the shadow of war," Rear Admiral Khanzadi said in the Southern city of Bandar Abbas.
"Their presence in the region is theatrical and useless," he underlined.
Rear Admiral Khanzadi reiterated the Iranian Armed Forces' full preparedness to defend the country's borders against any threats.
He also addressed the Persian Gulf littoral states, saying, "The presence of Americans in the Persian Gulf region has come to an end and they should leave the region and those countries which have pinned hope on such present powers as the Americans should fill this vacuum."
Rear Admiral Khanzadi underscored that the only way to fill this vacuum was regional cooperation and creating desirable trends to increase the regional power, adding, "This will happen in the near future and there is no doubt about it."
Last Saturday, Salami warned of the US full-scale intelligence war against Iran, saying that Tehran will defeat Washington in this front.
"We are able to defeat the enemy in intelligence war; breaking the enemy's will to use power means disarming the enemy," General Salami said, addressing the IRGC intelligence officials in Tehran on May 18.
Two weeks before that, he had said that enemies of Iran have been exhausted, reassuring that Tehran's foes will sooner or later crumble because of their internal decays.
Salami said, during a meeting with Iran's Defense Minister Brigadier General Amir Hatami on May 04, Iran's foes had been tired out.
"Our enemies are fatigued today. They look sturdy but have decayed from within. They will crumble sooner rather than later although they are trying to deny that fact," the commander said.
Salami said Iran's enemies are deploying all their means and capacities against the country, but added, "Our livelihood has not been predicated on oil. The US cannot restrict our livelihood."
The commander highlighted the United States cannot restrict Iran's sources of livelihood as oil sales do not constitute the Islamic Republic's sole source of income.
The IRGC chief commander also said that the sanctions can be turned into an opportunity to increase internal capabilities, adding that the sanctions can be defeated through constant efforts.
Describing Iran's armed forces as an intertwined chain, Salami said that developing a common understanding about technical realities and operational requirements will help pursue priorities in the best manner.