Imam Ali Khamenei
Iran
Leaders of Ummah
Middle East
IRGC vows efforts to rid Iran of repercussions of cruel sanctions
The chief commander of Iran's Islamic Revolution Guards Corps (IRGC) has pledged efforts to defeat the enemies' strategy of economic pressure and rid the country of the consequences of cruel sanctions.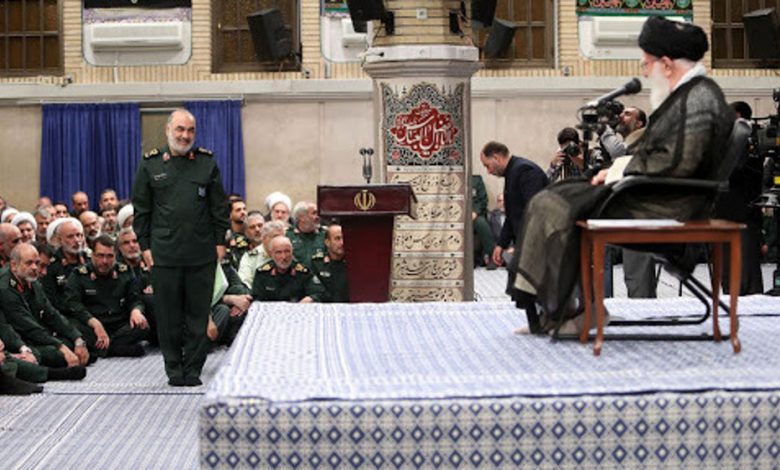 Major General Hossein Salami made the remarks in a message to Leader on the Islamic Revolution Ayatollah Seyyed Ali Khamenei, reacting to the guidelines set out by the Leader during his recent New Year speeches.
During his first address to the nation on March 20, Ayatollah Khamenei designated the new Iranian calendar year of 1400 as that of "Production: Support and the Elimination of Obstacles," as the country works to diminish the impact of unilateral American sanctions, which have mainly targeted the livelihoods of Iranian people.
Ayatollah Khamenei called for efforts to remove the obstacles in the way of domestic production, which he views as key to confronting the Western sanctions against the nation.
In another speech a day later, the Leader reaffirmed the call, saying correct planning and strong anti-corruption management are needed to boost domestic production.
In his message, the IRGC chief pledged efforts to speed up domestic production, fight corruption, mobilize the country's young experts and offer a helping hand to the people in need as part of a campaign to weaken the enemies and dissuade them from following the strategy of pressure against the Iranian nation.
"The gist of this (Leader's) divine message is for dear Iran to grow strong in light of its faith to a level that it would render the enemy's vicious policies ineffective and neutralize the enemies' evil dreams," Salami said.
"We will stay in the field, stand shoulder to shoulder with people, put Your Excellency's words into action,…overcome the enemy and its strategy, and render the country immune to the consequences of the cruel sanctions," Salami said.
He added that the IRGC has set up a headquarters that will work to precisely implement Ayatollah Khamenei's guidelines and instructions.
The IRGC was formed on the order of Imam Khomeini, the late founder of the Islamic Republic, shortly after the 1979 Islamic Revolution in a bid to protect the ideals of the Revolution and battle insecurity in the country.
The elite military force, which is a branch of Iran's Armed Forces, played a major role in defending the country during the 1980-88 Iraq-imposed war. It has also been playing a momentous role in fighting regional terrorism over the past years.
However, besides its defense-related tasks, the military force has actively cooperated in construction, infrastructure and relief projects across Iran over the past decades.