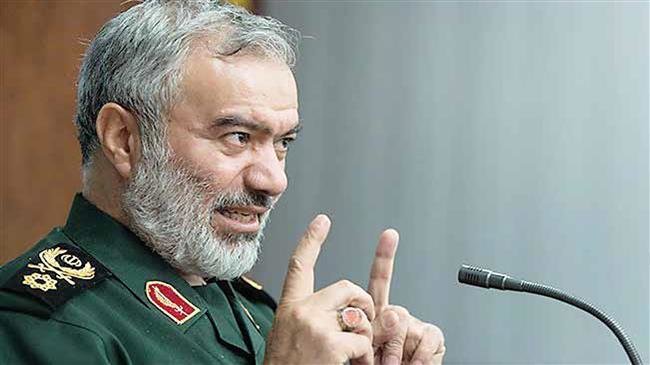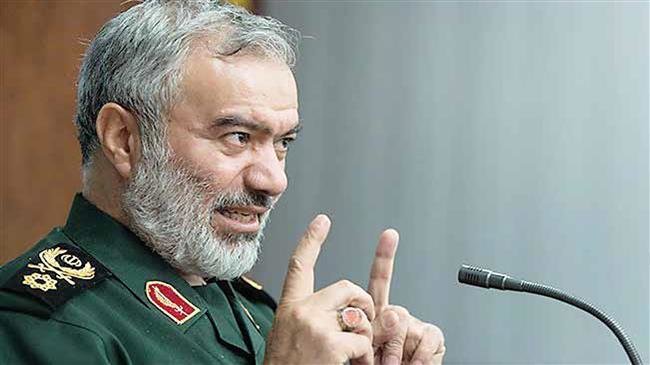 Iran's Islamic Revolution Guards Corps (IRGC) says it will continue its missile tests and research more actively than ever in defiance of the US pressure and sanctions.
Speaking to Iran's official news agency IRNA on Friday, IRGC deputy commander for coordination Brigadier General Ali Fadavi said conducting research on military equipment and missiles is a permanent job of the Islamic Revolution Guards Corps.
Fadavi described it as a vital issue for Iran just like breathing, and asked, "Is it possible [for a person] to stop breathing?"
He pointed to the US pressures and sanctions on the Islamic Republic, and said they are always opportunities for Iran, as they create conditions for the country to rely on its own capabilities.
"The harsher the sanctions get, the more defensive capabilities Iran will achieve," he added.
Fadavi's comments came a few weeks after the latest ballistic missile test by the Iranian armed forces. The move was described as a significant one by IRGC Aerospace Commander Brigadier General Amir Ali Hajizadeh.
"We will continue to conduct our missile tests and this latest one was particularly significant," Hajizadeh said on Dec. 11, reacting to US Secretary of State Mike Pompeo's position on Iran's missile tests.
A senior Iranian military commander describes the country's latest ballistic missile test as "significant," and says Iran will continue testing conventional missiles.
Hajizadeh said that Iran conducts more than 50 missile tests each year. "That the Americans react to certain tests is indicative of the [amount of] pressure on them."
In a statement released on Twitter on December 1, Pompeo claimed Iran had "just test-fired a medium range ballistic missile" in violation of the United Nations Security Council Resolution 2231.
UN Security Council Resolution 2231 endorsed the 2015 international nuclear agreement, officially known as the Joint Comprehensive Plan of Action (JCPOA), from which Washington has withdrawn under the pretext that it should have included Iran's missile program as well.
Tehran rejected Pompeo's claims, saying its conventional missile program is defensive and does not violate that resolution, which "calls on" Iran "not to undertake any activity related to ballistic missiles designed to be capable of delivering nuclear weapons, including launches using such ballistic missile technology."
Iran says all of its ballistic missile-related activities are in full conformity with the relevant provisions of the Resolution 2231.
A senior Iranian commander says the country will continue to test and develop missiles in line with its deterrence policy.
Over the past years, Iran has made major breakthroughs in its defense sector and attained self-sufficiency in manufacturing military equipment and hardware despite being under Western sanctions and economic pressure.
Tehran asserts that its missile arsenal strictly serves self-defense and poses no threat to other states.
Defense Minister Brigadier General Amir Hatami said recently that Iran is currently one of the world's topmost missile powers despite having been subjected to severe sanctions during the past 40 years.