Iran
IRGC's intelligence unit arrests several armed instigators of Mahshahr riots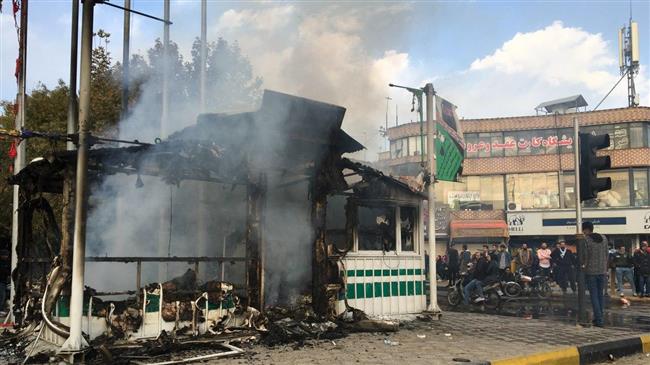 Iran's Islamic Revolution Guards Corps (IRGC) says its intelligence arm has arrested several armed instigators of the violent riots that hit Mahshahr County in the southwestern Province of Khuzestan last month.
The IRGC said in a statement on Monday that a number of the armed elements behind the violence in Mahshahr had been taken into custody in coordination with the Judiciary.
In mid-November, several Iranian cities witnessed protests prompted by a government decision to increase gasoline prices.
The protests were initially peaceful but soon turned ugly after riotous elements, taking advantage of the circumstances, started vandalizing private and public property and randomly shooting at everyone on the streets, including civilians and security forces.
The riots were, however, quickly subdued thanks to the timely response of security forces and the mass participation of people in pro-government rallies held countrywide in condemnation of the violence.
During the unrest in Khuzestan Province, the IRGC statement added, the rioters blocked roads in and out of Mahshahr in an attempt to create traffic jams on highways linking the province's cities and towns.
According to the statement, the rioters were also preventing the entry of aid vehicles and trucks carrying basic supplies into Mahshahr.
Taking advantage of the mayhem, the armed elements opened fire on civilians and security forces, leaving several of them dead and injured, said the IRGC, adding that the shooting spree stoke fear among people and disrupted public order in Mahshahr and its districts — namely Bandar-e Emam Khomeini, Taleghani and Chamran.
In response to the incident, the IRGC's intelligence forces identified "the key elements behind the shootings that targeted civilians as well as law enforcement and military forces" during a meticulous operation, the statement said.
According to the statement, the suspects have confessed to their acts of sabotage, which include encouraging the blocking of routes, disrupting security and crippling the region's exports and imports.
Hundreds of arrests have so far been made in connection with the violence nationwide. Many of the rioters were found to have links to the notorious US-backed Mujahedin-e-Khalq Organization (MKO) terror group, according to Iranian officials.
No official death toll from the violence has so far been released. Officials say there was an enemy plot to increase the number of fatalities during the riots, and that most of those killed had not even been involved in any protest gatherings.