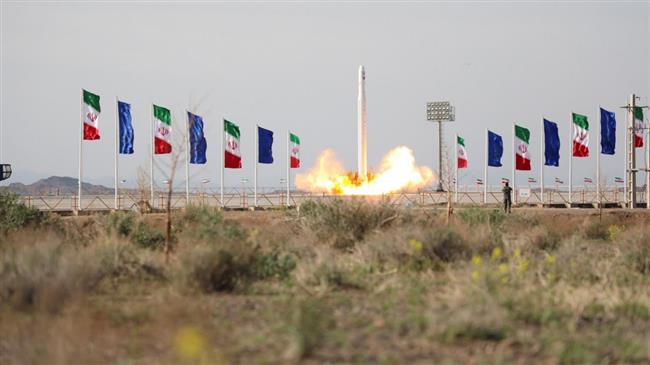 Iran's Islamic Revolutionary Guards Corps (IRGC) successfully placed the Islamic Republic's first ever military satellite in its designated orbit on Wednesday, using a rocket which is also the country's first three-stage launch vehicle to successfully deliver its load.
The Noor-1, although Iran's fifth homegrown satellite to successfully reach outer space, marks a new chapter in the country's space program, which relies heavily on technologies that are designed and developed at home.
While little data has been made available about the Noor-1 and its features, its classification as a multi-purpose satellite with special uses in the defense sector suggests that the IRGC has reached such technological maturity that it can now confidently plan and carry out intelligence warfare and military reconnaissance missions from space while gathering data that helps keep the Iranian skies safe.
IRGC Commander Major General Hossein Salami wrote after the launch: "Today we watch the earth from the sky and this is proof that a global power is in the making."
The satellite's functions aside, the launch presents a far greater achievement for Iran's defense industry by putting space, which is quickly becoming a new domain for military dominance, within reach.
The Qased (Courier) rocket, which carried the Noor-1 to its destination with a sophisticated three-stage design, also cleared one of the technological challenges that had hampered Iran's recent attempts at reaching higher altitudes in the Low Earth Orbit.
According to experts, the ability to develop a solid-fuel engine that safely drives the third stage of the rocket to its desired altitude is testament to the great strides Iranian engineers have made under the harshest Western sanctions to date.
The Arabic website Ray al-Youm described the launch as evidence that Iran has defeated US sanctions in practice.
It also showed that despite designating the IRGC as a terrorist group and assassinating Quds Force Commander General Qassem Soleimani, the US has failed to stop the IRGC's rapid progress, the website added.
The significance of the launch became clearer when the chief commander of the Iranian Army, Major General Abdolrahim Mousavi, and Major General Mohammad Bagheri, Chief of Staff of the Armed Forces, both hailed it as a historic milestone in expanding the country's defense prowess.
Other top Iranian officials, including Leader of the Islamic Revolution Ayatollah Seyyed Ali Khamenei, have also congratulated and thanked the IRGC for its latest leap forward.
However, the successful launch, while widely expected and encouraged at home, took by surprise American and Israeli leaders who did not see it coming amid the coronavirus pandemic, which has hit Iran hard.