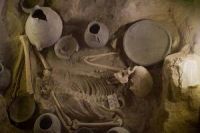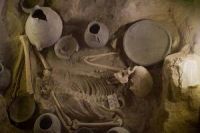 Seven graves containing human skeletons dating back to Iron Age were discovered in Jeyran Tappeh of Tarom city in Zanjan province.
Behnam Qanbari, the head of the excavation team, said the cemetery located in the vicinity of Deram town of Tarom has more than 3,000 years of history, IRNA reported.
Qanbari said the family graves, discovered in the region, indicate that a special form of burial was performed in the region.
He noted that a number of valuable historical objects were discovered in the grave, which shows that the locals believed in life after death.
"Such graves have not been discovered in any parts of the country so far," he said, adding that the form of burial and objects found in the graves reveal the genders of bodies and the reason of their deaths.
Qanbari pointed out that extensive efforts have been made by the province's cultural heritage department in cooperation with the province's natural resources, agricultural jihad and roads and urban development organizations to prevent the implementation of any development project in the region.