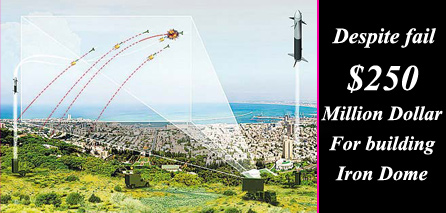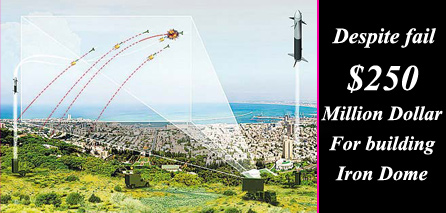 Why has Israel's very-short-range Iron Dome anti-missile interceptor system failed so badly? Israel is to delay the deployment of its "Iron Dome" multimillion-dollar missile defense system until next year, a military source said Nov. 8.
The Zionist war ministry had said in July that the Iron Dome would become operational in November.
But the source told AFP the military had now decided to push back its deployment until the first quarter of 2011, to allow more time to train those operating the highly complex system.
The delaying came after the Palestinian resistance men succeeded to fire several missiles at the military sites and bases.
The "Iron Dome" failed to stop these missiles, also in previous time; the Zionist army has decided against deploying the Iron Dome in Sderot and confirmed that the Iron Dome is worthless.
In the last months, the Pentagon has issued a message to Israel's War Ministry that U.S. President Barack Obama has approved the transfer of special assistance totaling $205 million for the purchase of more than ten Iron Dome batteries.
Each battery comprises detection and tracking radar, state-of-the-art fire control software and three launchers, each with 20 interceptor missiles, the military source said.
In the meantime, the system will be stored at an air force base in central Israel from where it can be deployed immediately in case of an emergency, the source told AFP.