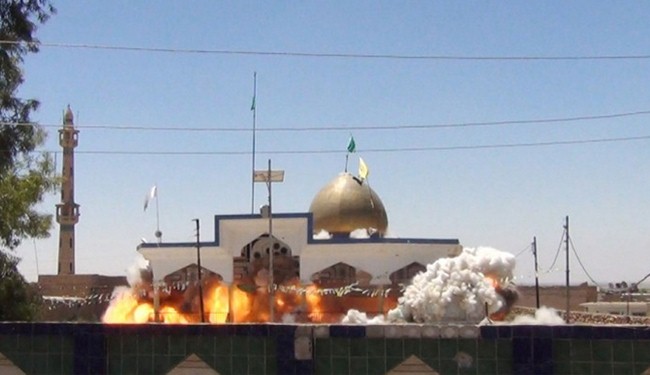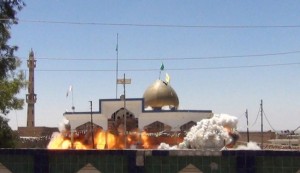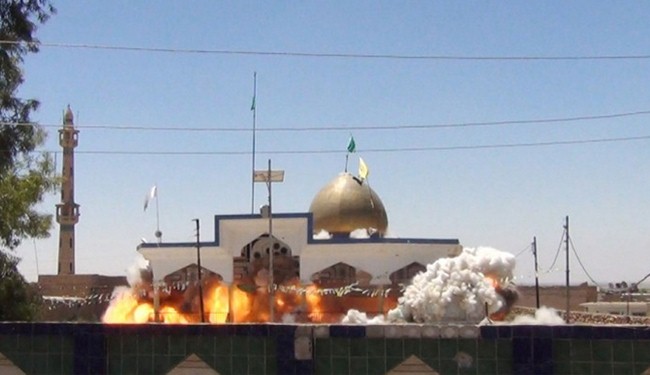 ISIL's Takfiri terrorists have demolished numerous Shia shrines and mosques in northern Iraq, according to photos published by the group on social media.
The images show Shia religious centers being attacked using bulldozers and explosives in the cities of Mosul and Tal Afar, in the northern province of Nineveh.
The terrorist group has previously claimed responsibility for destroying Shia shrines and pledged to rid Iraq of Shia holy sites.
On Monday, the Takfiri militants fired a volley of rockets at a revered Shia shrine in the Iraqi city of Samarra, and injured several people.
According to reports, at least three rockets launched by the foreign-backed Takfiri terrorists hit the shrine complex as the armed insurgents continue waging acts of violence and terrorism in Iraq.
Over the past days, Iraqi armed forces have been engaged in fierce clashes with the terrorists, who have threatened to take their acts of violence to other Iraqi cities, including the capital, Baghdad. However, the ISIL's advance has been slowed down as Iraqi military and volunteer forces have begun engaging them on several fronts.
Senior Muslim clerics have condemned the ISIL atrocities, including mass executions and rape.
Iraq's Prime Minister Nouri al-Maliki has said Baghdad's air and ground forces will turn the tide against ISIL terrorists and its affiliated groups within days. Maliki has vowed that the country's security forces would confront Takfiri forces.