Syria
ISIL Terrorists Killed, Rockets, Weapons Caches Destroyed in Lattakia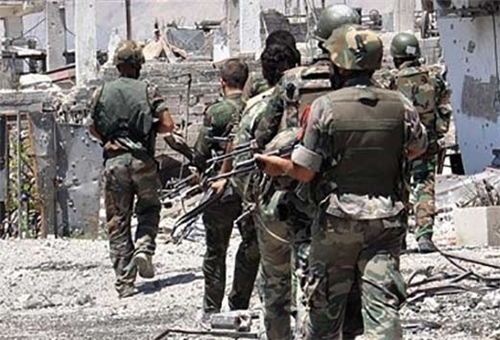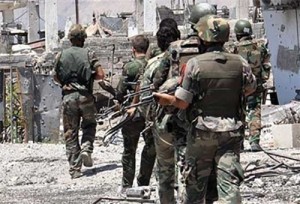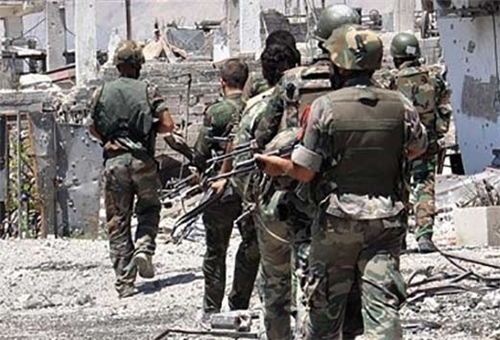 Syrian government troops destroyed rocket and weapons caches of the terrorist groups in Lattakia countryside after inflicting heavy casualties on the Al-Qaeda linked al-Nusra Front and the so-called Islamic State of Iraq and the Levant (ISIL).
A military source told the state-run news agency that an army unit destroyed 6 cars loaded with weapons and ammunition as well as several terrorists' gatherings in al-Qantara village.
Numbers of terrorists were killed in the operation, including a Saudi terrorist from the ISIL, in addition to terrorists Abo Anas al-Horani, Ahmad Malek al-Nuaimi and Imad-Eddin al-Golani, one of the leaders of al-Nusra Front in the areas of Idlib and Lattakia countryside.
The source added that the army units destroyed a thermal rocket cache, two weapons and ammunition caches and cars loaded with ammunition and heavy machine guns in the surrounding of the villages of al-Kindassiyeh and al-Sukariyeh.
Scores of terrorists, some are non-Syrians, were killed and others were injured in the framework of the operations in the two villages.
Terrorists Abo Ahmad Shiko from the Philippines, Abo Omar Kakao from Kazakhstan and Abo Abdullah al-Sheikh from Tashkent were identified among the dead, in addition to a terrorist from Dagestan and another one from Iraq, leader of the so-called ISIL.
In al-Rawda village, an army unit killed all members of a terrorist group, including Ahmad al-Asmar, Jalal al-Mwash, Adel Shukri, Imad-Eddin al-Fasl and Issam al-Zir.
Meanwhile, another army unit carried out a special operation targeting terrorists' dens in Toros village which resulted in the killing of two explosives experts from Palestine, in addition to terrorists Mohamamd Shawish, Ahmad al-Rahi and Majed Fathi.