Iraq
ISIL's Baghdad Emir Killed in Iraqi Military Operation in Al-Anbar Province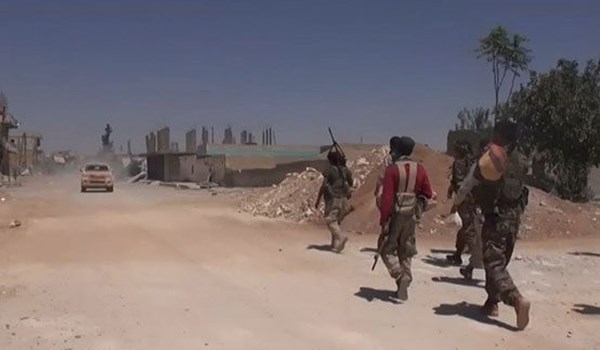 Iraq's Hashd al-Sha'abi (Iraq's Popular Mobilization) forces conducted an anti-terror military operation in al-Anbar province, and killed ISIL's Baghdad emir and arrested six of his aides.
The Iraqi Hashd al-Sha'abi in a statement announced that its Brigade 18 in a special operation in al-Anbar province killed Abd al-Salam Hamd Hamoud nom de guerre Abu Nour.
The deputy of Abu Nour was injured and six of his assistants were also arrested in Hashd al-Sha'abi operation.
Meantime, Commander of Iraq's Joint Military Operations Colonel Yahya Rasoul told the Arabic-language al-Youm that 10 percent of Iraqi territories have been cleansed in Eradeh al-Nasr operations.
He added that the mop-up operations against the ISIL remnants will continue in desert areas of al-Anbar, Nineveh and Salahuddin provinces until arresting or killing ISIL ringleader Abu Bakr al-Baghdadi.
In a relevant development in late August, a senior member of Iraq's al-Nujaba Movement underlined that the US special forces have increased their movements in Western Iraq, and relocated large groups of the ISIL terrorists.
The Arabic-language al-Mosleh news website quoted member of the Political Council of al-Nujaba Movement Faras al-Yasser as saying that according to the intel obtained by Iraq' Hashd al-Sha'abi forces, the US forces have relocated the ISIL terrorists in heliborne operations to regions both in and outside Iraq to use them as pressure leverage against the Iraqi government.
Al-Yasser also pointed to the US' efforts to increase the number of its army troops in Iraq, and said that the US special forces are present in the liberated areas in Salahuddin, al-Anbar and border regions.
He noted that suspicious movements continue by the US Army troops in Western Mosul and regions in the city of al-Sharqat.