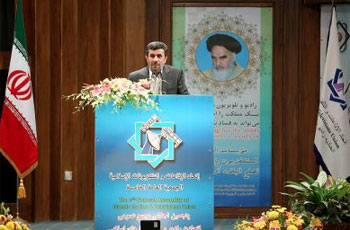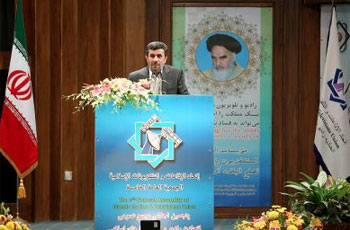 Waves of Islamic awakening movement will disrupt global US and EU dominance, IRI President Mahmoud Ahmadinejad said Wednesday.
President Ahmadinejad made the remarks in the Fifth General Assembly of the Union of Islamic Radios and Televisions (UIRT).
The three day event was attended by 200 members of the union from 32 countries.
Referring to his recent visit of US, President Ahmadinejad added that dissatisfaction is increasing among various social groups and individuals there.
"Islamic Awakening has spread all over the world but needs support; the day of freedom of Palestine is near," he continued.
Pointing to the diplomatic efforts made by the arrogant powers to manipulate the world oil and gold prices and the fluctuation rates of the hard currencies, Ahmadinejad added that they intentioanlly create financial crises to solve their own governments' budget shortages even at the cost of troubling poor countries.
The September 11th incident was designed by the US itself to hide the Zionists and other states and organizations' crimes, Ahmadinejad added.
Pointing to millions of people killed in Iraq and Afghanistan, Ahmadinejad underscored that Media has an important role in justifying arrogant powers' criminal acts.
President Ahmadinejad also stressed that the Union of Islamic Radios and Televisions should have an active, but meanwile honest, fair and logical approach toward the western media plots against the Islamic world.
"The period of arrogant powers and their materialistic governing models has already come to its doomed end and it is the time for the divine model of governing's rule over the world, he concluded.