Iran
Islamic Iran response to US spy drones not to be limited to the country's borders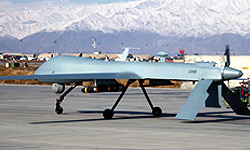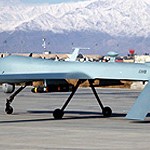 Iran's response to US spy drones will not be limited to the country's borders, a military source said after Iranian armed forces shot down another US spy drone yesterday.
"Given the flagrant violation of our country's borders, the electronic and operational actions of the Islamic Republic of Iran's Armed Forces against the enemy planes will not be limited to the country's borders," an Iranian official told FNA.
The official had also informed FNA on Sunday afternoon that the country's forces had downed a US RQ-170 Sentinel drone over the Eastern parts of the country.
"An advanced RQ-170 unmanned American spy plane was shot down by Iran's armed forces. It suffered minor damage and is now in possession of Iran's Armed Forces," a military official told FNA on Sunday.
In similar remarks, military sources told Iran's Arabic language Al Alam television that Tehran will intensify its response to the United States' spying operations.
"The Iranian military's response to the American spy drone's violation of our airspace will not be limited to Iran's borders any more," a military source told Al Alam, without giving details.
After a day of silence, both Pentagon and NATO officials acknowledged the shooting down of their Unmanned Aerial Vehicle (UAV) in eastern Iran, alleging that the aircraft with a mission to fly over western Afghanistan had gone astray.
The drone had been downed with help from the Iranian military's electronic warfare unit.
The military official warned of a strong and crushing response to any violations of the country's airspace by American drone aircraft.
RQ-170 Sentinel is made by Lockheed Martin and is used for highly important, top secret missions. The UAV was used to keep watch on Osama bin Laden's compound in Pakistan as the raid that killed him was taking place earlier this year.
The surveillance aircraft is equipped with stealth technology, but the US Air Force has not made public any specifics about the drone.
Iran has shot done over a dozen US drones during the last few years.
In January, Iranian forces shot down two pilotless US spy planes over the country's airspace, and after Washington denied the shooting down of its drones, Tehran offered to put them on public display.
In July, Iranian military officials showed Russian experts several US drones shot down in Iran in recent years.
Also in July, Iranian lawmaker Ali Aghazadeh Dafsari said Iran's Islamic Revolution Guard Corps (IRGC) had shot down an unmanned US spy drone that was trying to gather information on an underground uranium enrichment site.
Dafsari said the drone was flying over the Fordo facility near the holy city of Qom in central Iran.
Iranian military official first announced in February 2005 that the United States had been flying surveillance drones over its airspace to spy on its nuclear and military facilities.