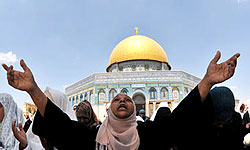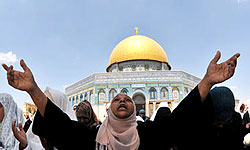 Iran on Tuesday condemned Israel's repeated attacks on Muslim worshippers in the al-Aqsa Mosque, and demanded the Muslim states and international bodies to show a strong reaction to Tel Aviv's continued aggressions.
"Islamic heads of state's decision to confront the Zionist regime and its crimes was among the most important issues sought by us and other countries," Iranian Foreign Ministry Spokesman Ramin Mehman-Parast said in his weekly press conference here in Tehran today, reminding that both Islamic and non-Islamic countries have strongly condemned the attacks.
He further noted that the Zionist regime's attack on the defenseless people of Palestine demonstrates "the true face of the Zionists".
Earlier this month, Israeli forces stormed the al-Aqsa Mosque compound and used stun grenades to disperse Palestinian worshippers. Nearly two dozen people were injured, including a 16-year-old teenager.
The attack came after a group of Israeli settlers tried to enter the compound as Palestinians were saying their Friday Prayers, sparking clashes.
The situation at the al-Aqsa, which is one of Islam's holiest sites, has been tense over the past weeks.
Israel has occupied the West Bank since 1967, and annexed East al-Quds, where the holy al-Aqsa Mosque is located, a move not recognized by the international community.