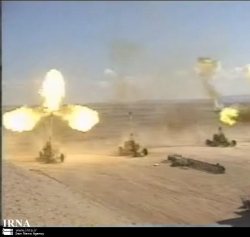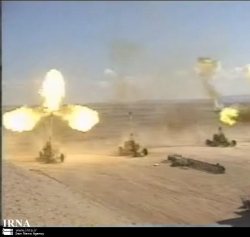 The Aerospace Division of Iran's Islamic Revolution Guards Corps (IRGC) has taken delivery of a massive batch of domestically-manufactured anti-aircraft artillery systems.
Iran's Defense Minister Brigadier General Ahmad Vahidi told reporters on Tuesday that the Defense Industries Organization has designed and mass-produced the 100mm Sa'ir (Blaze) cannons that serve as an appropriate option for aerial artillery coverage at low and medium altitudes.
He added that the cannons can detect and intercept targets automatically through radar or optical systems, the IRIB reported.
The Iranian minister noted that Sa'ir can destroy targets with a high precision rate in comparison with other similar systems.
Pointing to the Defense Ministry plans to update and promote anti-aircraft systems, Vahidi stated that the mass delivery of Sa'ir cannons will boost the country's anti-aircraft fire power at low and medium altitudes.
He added that Sa'ir operates in a medium range and can also be deployed against naval targets.
The minister emphasized that Iran has taken another step towards increasing its military might with the objective of countering any air threat through the delivery of the anti-aircraft systems.
In recent years, Iran has made major progress in the defense sector and attained self-sufficiency in essential military equipment and systems.
Iran has repeatedly assured other nations, especially its neighbors, that its military might poses no threat to other countries, insisting that its defense doctrine is based only deterrence.
The great satan US and zionist israeli regime have repeatedly threatened Tehran with military strikes on the false pretext that Iran's nuclear program may have a covert military aspect.
Tehran has categorically refuted the allegations by the Western powers, saying that as a signatory to the nuclear Non-Proliferation Treaty and a member of the International Atomic Energy Agency, it has the right to develop and acquire nuclear technology for peaceful purposes.
Iranian officials have vowed to deliver a crushing response to any military strike against the country, warning that any such measure could result in a war that would certainly reach far beyond the Middle East.