Middle East
Palestine
Islamic Jihad mujahed martyrs of wounds sustained in recent zionist strikes on Gaza
A Palestinian fighter of the Islamic Jihad resistance movement has died of wounds he had sustained in November 13 attacks by the Israeli military against the besieged Gaza Strip.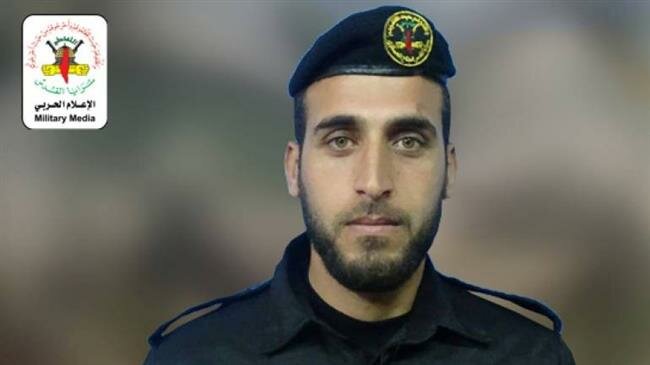 The spokesman for the Gaza Ministry of Health, Ashraf al-Qidra, said in a statement that 30-year-old Ra'ed Sirsawi, a resident of al-Shijaiya neighborhood in the eastern flank of Gaza City, succumbed to the serious injuries on Friday afternoon.
The al-Quds Brigades, the armed wing of the Islamic Jihad, later confirmed in a press statement that Sirsawi was a member of the group, and that he was fighting in the Dawn Scream operation against Israeli forces.
Sirsawi was not the only victim of the latest string of Israeli airstrikes on Gaza.
Last week, Rasmi Abu Malhous, also known as Rasmi al-Sawarka, died days after eight members of his family lost their lives in the strikes.
Palestinian dies of injuries after Israeli airstrikesA Palestinian has died more than a week after eight members of his family lost their lives in a string of Israeli airstrikes.
Sawarka died on November 22. He had been injured in the Israeli bombing of his home in the central town of Deir al-Balah, which was carried out on November 14. The strikes also targeted the home of his brother, Mohammad.
Following the strike, the Israeli military confirmed on Twitter that the Abu Malhous family home had been targeted.
zionist airstrike kills members of family in GazaDuring the early hours of Thursday, an Israeli airstrike hit a residential area in central Gaza Strip.
The Israeli military later acknowledged that it "made a mistake" in targeting the building. The airstrike came a few hours before a ceasefire brokered by Egyptian and UN officials came into effect.
Medical officials in the Gaza Strip said 34 Palestinians were killed by Israeli air raids over Gaza during two days of fighting between the Israeli military and the Islamic Jihad.
The fighting was triggered by Israel's targeted killing of a high-ranking Islamic Jihad commander identified as Baha Abu al-Ata.