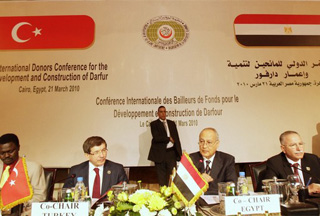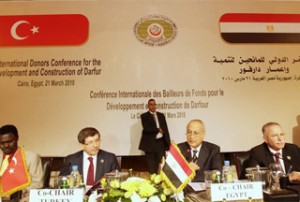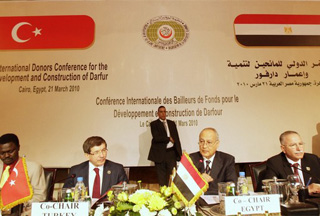 An international conference organized by the Organization of the Islamic Conference (OIC) has raised $850 million to help people in Sudan's Darfur.
The Sunday one-day conference co-chaired by Egypt and Turkey in Cairo planned to raise $2 billion to help the war-ravaged Darfur region.
"Stability and development in Darfur is the only guarantee that will lead to the voluntary return of refugees and displaced Sudanese back to their homes," Press TV correspondent in Cairo quoted the Egyptian Foreign Minister Ahmed Aboul-Gheit as saying.
"I hope this is a turning point that will help Darfur overcome its crisis once and for all," the Egyptian top diplomat added.
In addition to Muslim nations representatives from, European states, UN agencies and aid groups as well as the US were present in the conference.
Arab League Secretary General Amr Moussa who participated at the conference urged international support for the reconstruction of Darfur.
"The reconstruction of Darfur is our obligation. It is essential at this time to create an atmosphere of stability and peace in Sudan before the presidential election, which will take place next month in addition to the referendum that will determine whether Sudan will be divided into north and south or will be united as one state," Moussa added.
According to the United Nations' figures, clashes that erupted in Sudan in early 2003 have claimed up to 300,000 lives and drove more than two million people from their homes.