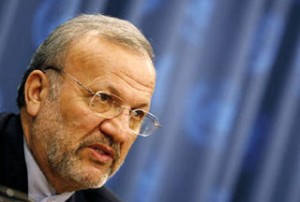 Iranian Foreign Minister Manouchehr Mottaki says the Islamic Revolution has guided man toward salvation by offering a new approach for social governance after 1400 years.
Speaking after the noon prayer at the Foreign Ministry on Wednesday, Mottaki said, "After 1400 years the Islamic Revolution in Iran… by offering a new method of social governance shone in front of secularism and liberalism that are the cause of all social problems and showed man the path to salvation."
In his remarks on the occasion of the 31st anniversary of the Islamic Revolution, Mottaki pointed to the efficiency of Islam in resolving all social, economic and political problems of the world and said, "Today, the Islamic Republic has useful and fundamental stances and opinions on all fields pertaining to humanity."
He went on to blame usury in world banks as the cause behind the global economic recession.
Mottaki criticized Western countries for their irrational stances on Iran's peaceful nuclear program and said, "The West does not have a realistic stance in this regard [Iran's nuclear program] and while it refuses to deal with Israel's nuclear weapons it irrationally inculcates doubts [about Iran]."
The Iranian foreign minister said that the secret to the revolution's endurance was the wise leadership of Ayatollah Seyyed Ali Khomeini, who for the past 20 years has guided the nation and has had the final say on all ambiguous and subversive matters.