Awakening
Iran
Middle East
Qasem Suleimani
Islamic Revolution Role Model for World's Free Nations: IRGC Commander
Deputy Commander of the Islamic Revolution Guards Corps (IRGC) for Coordination Rear Admiral Ali Fadavi described Iran as a major global power and said the country's 1979 Islamic Revolution has become a role model for free nations of the world.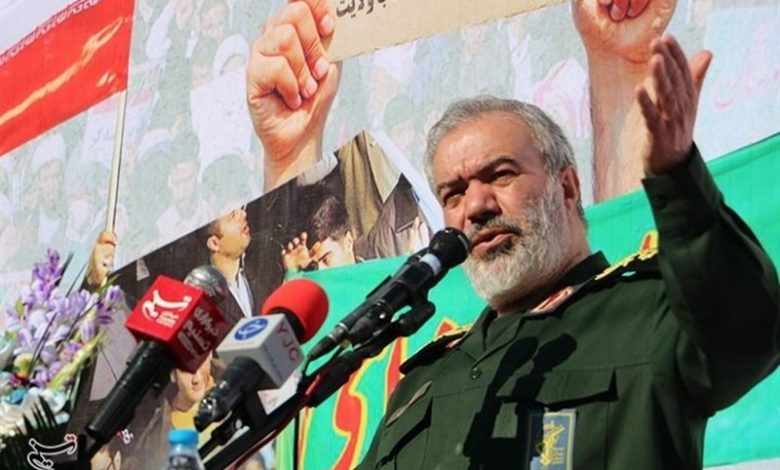 "In the next few days, we will celebrate the 41st anniversary of the victory of… the Islamic Revolution," Rear Admiral Fadavi said in a ceremony held in the holy city of Qom to commemorate revered commander Lt. Gen. Qassem Soleimani.
It was a revolution that over the past decades confronted the global arrogance (the US), he added.
The Islamic Revolution with the grace of God and the faith of the great nation of Iran has stood up to the global arrogance and today it has become a major world power, the commander went on to say.
"Today the Islamic Revolution with its wise leadership is a role model for the free nations of the world and has founded the Islamic Resistance Front," he went on to say.
The remark came as nationwide rallies are slated to be held in Iran on Tuesday to mark the 41st anniversary of the Islamic Revolution.
The Iranian nation toppled the US-backed Pahlavi regime 41 years ago, on February 11, 1979, ending 2,500 years of monarchic rule in the country.
The Islamic Revolution, led by Imam Khomeini, established a new political system based on Islamic values and democracy.
Every year, Iranians mark the anniversary of their Islamic Revolution from February 1 to 11, known as the Ten-Day Fajr (Dawn) ceremonies.
February 1, 1979, was the date when Ayatollah Ruhollah Khomeini returned from exile in Paris to Tehran.