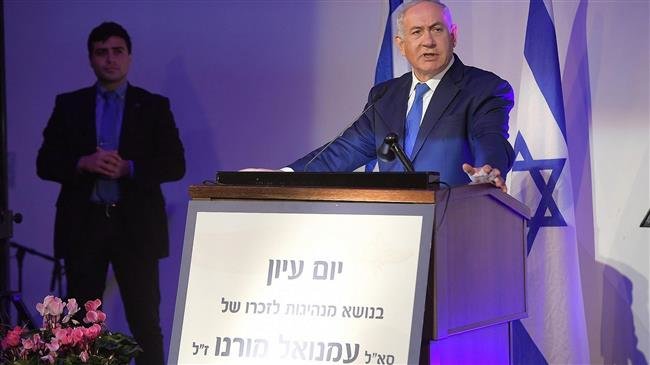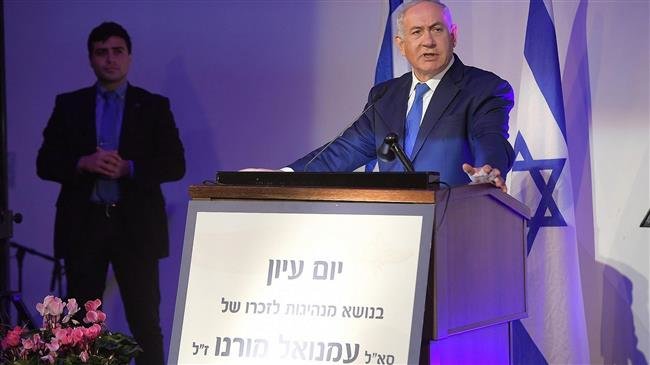 Zionist regime's Netanyahu says he had "insisted" that the US reimpose sanctions on Iran, adding Tel Aviv complements economic pressures with its own actions "at the military level."
US President Donald Trump "is acting against Iran at the economic level and we here in Israel are acting against Iran at the military level," Netanyahu said in an address to Israeli military cadets on Thursday.
By military actions, Netanyahu apparently meant airstrikes against what Israel calls Iranian positions in Syria. Damascus says the attacks are part of Israel's efforts to prop up terrorists in the face of army advances.
Last week, an Israeli intelligence website refuted Tel Aviv's claims that a recent aerial raid in Syria had targeted Iranian military advisers and Hezbollah fighters, saying the attack actually hit Syrian army positions.
Netanyahu said Israel was "surrounded by enemies on a couple of fronts," and it was "acting determinedly against anyone seeking to endanger us."
His comments came a day after Trump said Iran "can do what they want" in Syria following his decision to withdraw US troops operating there, a move that sparked consternation in Israel.
"Iran is no longer the same country," Trump said. "Iran is pulling people out of Syria. They can do what they want there, frankly, but they're pulling people out. They're pulling people out of Yemen. Iran wants to survive now," he claimed Wednesday.
In an apparent bid to soothe Israel, US Secretary of State Mike Pompeo said on Tuesday Washington would continue to work closely with Israel over Syria and Iran.
Speaking in a meeting with Netanyahu in Brazil, the top US diplomat said Trump's announcement of pulling out troops from Syria "in no way changes anything that this administration is working on alongside Israel."
He said US commitment to counter what he called Iranian aggression and "the protection of Israel continues in the same way it did before" Trump made the decision.
Iran has been offering advisory military assistance to the Syrian government in its counter-terrorism battle at the request of Damascus.
The US, Israel, France, Britain and their regional allies such as Saudi Arabia, the UAE, Turkey and Qatar, instead, have been sponsoring terrorists in Syria since 2011 which has left the Arab country in ruins.
America's most foreign allies in the war against Syria, particularly Israel and Saudi Arabia, are opposing Trump's plans to withdraw troops from Syria.