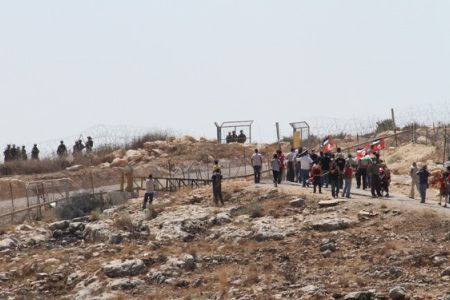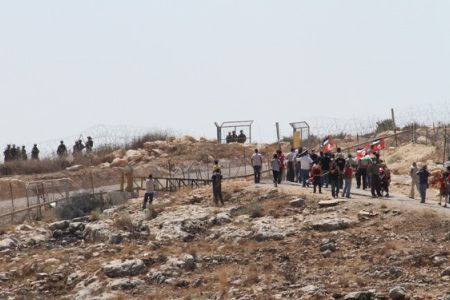 Israeli soldiers have injured several nonviolent protesters demonstrating simultaneously in some West Bank villages against the confiscation of their land and the construction of the apartheid wall.
On Friday, Israeli soldiers blocked the route of demonstrators in Ni'lin and Dir Nizam near Ramallah, and Umm Salamuna near Beth Lehm (Bethlehem), injured several Palestinians, and arrested at least one foreign national.
The Palestinians as well as some international peace activists were complaining that with the construction of the apartheid wall, Israelis are forcibly and illegally annexing land owned by Palestinians.
Israel's apartheid wall has annexed around 60 percent of Bil'in, a village in the Ramallah district, to build illegal settlements. Villagers in Bil'in have held nonviolent anti-wall demonstrations for more than six years now.
An Israeli army spokesman said soldiers used riot dispersal methods to prevent the protesters from advancing toward the wall.
In Al Ma'sara, near Beth Lehm (Bethlehem), in the southern West Bank, soldiers fired tear gas canisters and sound grenades to prevent demonstrators from advancing and to force them back to their village.
Demonstration organizers said four demonstrators were hit by rubber-coated steel bullets, and a foreign national was detained and handed over to the Israeli police in the nearby village of Umm Salamuna.
Norwegian politicians Torunn Kanutte Husvik and Stine Renate Haheim also joined the protesters in Bil'in on Friday, the Ma'an news agency reported.
Bil'in protest leader Adeeb Abu Rahmah was recently sentenced to 18 months in prison by a Military Court of Appeals. On October 11, protest organizer Abdallah Abu Rahmah was sentenced to 12 months imprisonment and ordered to pay a hefty fine.
The sentence was condemned by the international community.
A European Union statement said: "The EU considers the route of the wall where it is built on Palestinian land to be illegal. The EU supports the key role of human rights defenders in promoting and furthering of human rights."