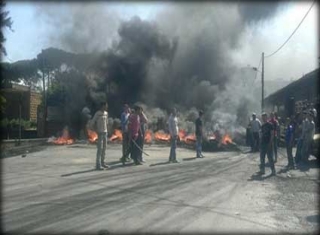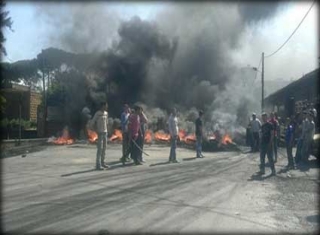 March 14 gunmen cut several roads of the capital Beirut on Monday, attacking citizens in Tariq El-Jdideh and the neighboring areas.
Heavy fire has been reported in Qasqas-Barbir locality. A rocket propelled grenade (RPG) heard while the Lebanese army still conducting patrols to control situation and restore calm.
Number of Al-Mustaqbal militants in Qasqas fired at neighboring residential areas and opened fire at the army in Qasqas and Shatila, local media reported.
In turn, the Lebanese army returned fire and called on the security reinforcements to the area while chasing militants and snipers on the roofs of buildings.
In parallel, the security forces cut the roads of Mazraa, Qasqas and Bechara El Khoury in order to track and hunt March 14 gunmen firing at the neighborhoods.
However on Sunday, Al-Mustaqbal party and March 14 partisans cut roads between the territorial areas of the capital Beirut, the south, the north and the Bekaa regions, attacking civilians and causing injuries.
In Naemeh south of Lebanon, Al-Mustaqbal gunmen have deliberately attacked residents at the coastal highway. They assaulted Qasim Mousa, a Lebanese citizen, and one soldier of Al-Ali family, shooting at the passers-by and burning their cars. The attacked targets included women, children and vans carrying passengers.
Al-Manar correspondent reported that gunmen in Naemeh were managed by "H" Sokeina and "W" Rahif of Jomaa family moving around by a red Honda, and that "A'" Maxi, "S" Hadid and "A" Hijazi were the ones who assaulted Mousa.
In the Chouf Coast, Mustaqbal partisans rushed to cut the international road at Jiyeh, Jadra and Naemeh, deliberately attacking passers-by and shooting near the homes of March 8 supporters in the point.
Armed groups crowded at Bchamoun – Aramoun – Saadiyat roundabout, Al-Manar correspondent added.
Mustaqbal militia men cut several roads inside the southern city of Sidon at Nejmeh square before the Lebanese army reopened it.
Also on Sunday, Mustaqbal gunmen cut several ways inside the capital in accordance with random checkpoints managed by insurgents.
Barbir, Mazraa, Qasqas and Tariq El-Jdideh of Beirut have also witnessed protest movements and burning tires amid heavy deployment of the Lebanese army, which has imposed security cordon around the areas trying to open roads between now and then.
In the Sport City area, Mustaqbal partisans attacked by sharp tools Ehab Azzi, a Lebanese citizen, which led to the amputation of his fingers.
In the northern city of Tripoli, the Lebanese army carried out on Monday mechanized patrols after shootings took place in a number of streets.
However, clashes escalated on Sunday night, where gunmen continued their tours within the inner city, which led to fire exchange, killing Jana Bilal Kamaluddin, a young girl, and wounding her brother Abdul Rahman, 21 months.