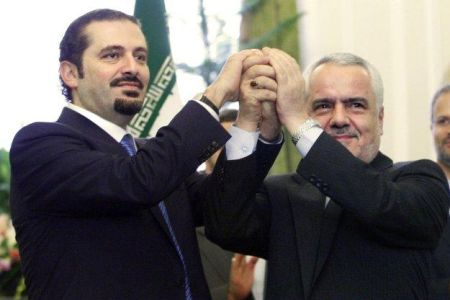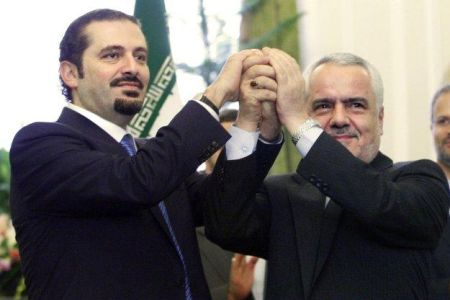 Iran and Lebanon have called attention to Israel's arsenal of nuclear warheads and weapons of mass destruction as the biggest threat to the region's peace and security.
Iran and Lebanon issued a joint statement on Monday at the end of Lebanese Premier Saad Hariri's three-day visit to Tehran.
Hariri arrived in the Iranian capital, Tehran, earlier on Saturday.
The two countries stressed the necessity of paying attention to Israel's nuclear arsenal and its weapons of mass destruction as the biggest threat to the region's peace and security, and called for the establishment of a nuclear-free Middle East.
The statement also reiterated the necessity of Israel's withdrawal from all Lebanon's occupied territory.
Iran announced its support for Lebanon's national unity, stability, government, nation and Islamic resistance movement, stressing the necessity of peaceful coexistence as paradigm of consensus democracy.
Iran also reiterated its complete readiness to offer its different technical, economic and industrial expertise to Lebanon.
The Lebanese government hailed Iran's constructive role in the realization of Lebanon's national unity and stability, and both sides announced their support for Saudi Arabia and Syria's efforts in this regard.
Lebanon also declared its support for Iran's peaceful nuclear activities and its opposition to the West's contradictory stances and double standards regarding the issue.
The statement also condemned the recent terrorist attacks in Tehran which led to the martyrdom of an Iranian academic and the injury of another.
Unknown terrorists detonated bombs in the vehicles of Dr. Majid Shahriari and Professor Fereydoun Abbasi in separate locations on Monday morning between 7-8 a.m. local time.
Shahriari was martyred immediately, but professor Abbasi and his wife sustained injuries and were transferred to hospital.
Both men were professors at Shahid Beheshti University in Tehran.