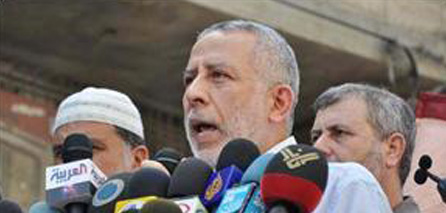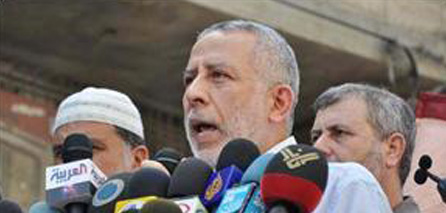 Marking the second anniversary of Israel's most recent war on Gaza, senior Islamic Jihad Movement official Mohammed al-Hindi said Israel can no longer delve into war every year or two, assuring that its military deterrence has waned.
"The Israeli army can no longer go to war and pull off victories over our people," Hindi said, citing to back his claim the 22-day Gaza war late 2008 and another 33-day long war in south Lebanon summer 2006 when the Israeli army retreated subdued.
The Islamic Jihad Movement led a march noon Sunday in Gaza to mark the second anniversary of the last Gaza war. Marchers filled the streets of the northern Gaza Strip city of Jabaliya, gathering at the Ezbat Abed Rabbo gate which was devastated during the war.
"The enemy's threats (of new aggression) are being taken seriously by factions and Palestinian resistance forces," Hindi said. But he considered the roaring part of a "media war" Israel has entered with the Palestinians.
Hindi reiterated the readiness of his movement and other resistance factions to offer more sacrifices in the path of freedom and independence.
For its part, the Palestinian Ahrar (freemen) movement said on the occasion that resistance is the only language Israel understands.
"Israel's hints at launching a new war with Gaza are an attempt to escape its internal and foreign political crises, and to restore the prestige of its soldiers, who lost it in its last war on Gaza," the movement said in a statement it issued Monday.
Gaza survived by its deep faith in Allah and the will of the people, and the resistance did not break, but remained firm as mountains, and brought the Israeli army's plans to eliminate it to failure, said Abu Ibrahim al-Qaisi, member of the popular resistance committees' central command, paying tribute to the families of the soldiers wounded in killed and those who lost their homes during the war.