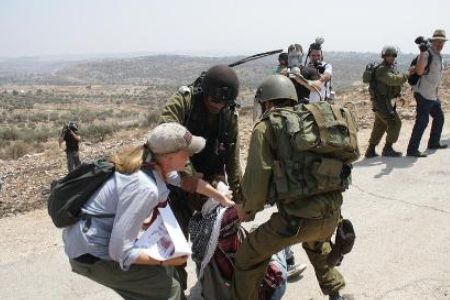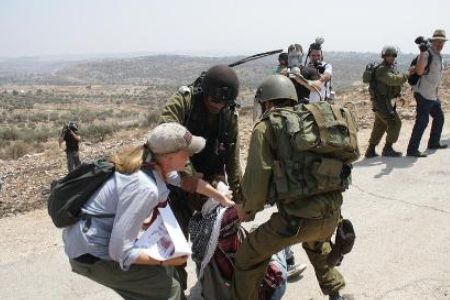 Israeli soldiers injured a journalist and detained two activists in another anti-wall protest Friday in Bil'in and Nil'in villages, near the West Bank town of Ramallah.
In Bil'in, Palestinian, international, and Israeli activists were holding their weekly non-violent, anti-Apartheid Wall protests when Israeli soldiers attacked them.
The protesters were demanding the prosecution of Eden Abergil, an Israeli soldier whose photos were published in the Facebook, abusing Palestinian detainees.
As soon as the protesters reached the separation wall, Israeli troops used tear gas and set off sound bombs among the unarmed civilians.
Haitham al-Khatib, a local journalist, suffered minor injuries when troops attempted to arrest him. An International and an Israeli activists were also arrested during the incident with their whereabouts reported unknown.
In the village of Nil'in, Israeli soldiers used tear gas and sound bombs against the local people who were holding their midday prayers near the Israeli-built Apartheid Wall. The extensive structure, often misleadingly called "a fence," snakes through Palestinian land in the West Bank, leaving local villagers on the wrong side and isolated from their land and extended families.
No injuries there were reported in the latter incident.