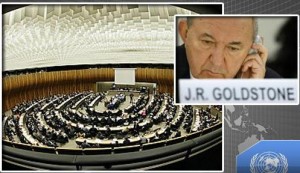 A senior Islamic Revolution Guards Corps commander says Israeli claims of intercepting a ship carrying Iranian-made weapons intend to divert attention from a UN report detailing Israeli war crimes in Gaza.
In remarks that were later proven to be false, Israeli military sources said Tuesday they found a large cache of Iranian-made arms when they stormed a vessel near Cyprus in the Mediterranean Sea.
They claimed that the ship was heading for the Hezbollah resistance movement, either in Lebanon or Syria.
Yadollah Javani, the Director of the Political Bureau of the Islamic Revolution Guards Corps (IRGC), said the allegations were part of the Israeli regime's "poisonous media campaign".
"These accusations are nothing but an Israeli ruse to deflect international attention from the Goldstone report as they move closer to the war crimes tribunal [at the International Criminal Court (ICC)]," said Brigadier General Javani.
He was referring to the 575-page report headed by Jewish South African judge Richard Goldstone, which detailed numerous acts of war crimes and human rights violations committed by Israeli soldiers during their incursion into Gaza.
"Israeli officials have a knack of leveling baseless accusations against others when they are in serious trouble," he added.
Syrian officials have rejected Israeli accusations over the cargo seizure. "The ship was not carrying Iranian-made weaponry for Syria or Lebanon, but was in fact carrying Syrian-made items for consumption in Iran," said Syrian Foreign Minister Walid Muallem on Wednesday.
Lebanese Parliament Speaker Nabih Berri also dismissed the charges, questioning why the Israelis had failed to detain the crew, if the ship was supposedly carrying the huge arms cargo.
Berri said that while Hezbollah has the right to obtain arms from "anywhere in the world," it is pretty obvious that Israel made the claims to fudge the issue of its war crimes in Gaza.