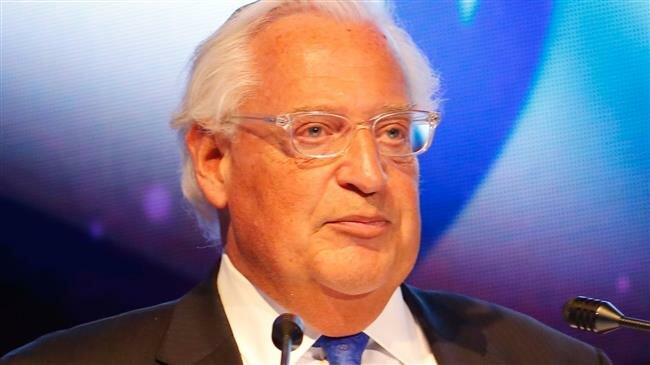 Rabid dog US Ambassador to Israel David Friedman has said Israel has the right to annex at least "some" of the occupied West Bank reiterating similar remarks made earlier by  US President Donald Trump.
"Under certain circumstances, I think Israel has the right to retain some, but unlikely all, of the West Bank," Friedman said In an interview published by the New York Times on Saturday.
Friedman then accused the Obama administration of a "flagrant violation" of international law for allowing passage of a United Nations resolution in 2016 that condemned Israeli settlements, claiming the UN resolution gave the right to Palestinians.
Back then outgoing US President Barack Obama had admitted that the Israeli occupation of Palestinian territories and the settlements built in the areas posed an obstacle to the Middle East peace efforts.
Friedman's latest comments come ahead of a US conference in Bahrain later this month in which Trump's "Deal of the century" for peace in the Middle East is to be unveiled.
In the interview, Friedman also accused Palestinian leaders, who view Trump's deal as a biased effort to sell out their rights, of wrongheadedly using "massive pressure" to dissuade participants from attending the Bahrain conference that the Trump administration is organizing.
Palestinians see the West Bank as part of a future independent Palestinian state with East Jerusalem al-Quds as its capital.
Israelis, however, insists on maintaining the occupation of Palestinian territories.
Earlier this year, Trump recognized the Israeli regime's "sovereignty" over the Golan Heights, a Syrian territory under Israeli occupation since 1967.
In December 2017, Trump's recognized Jerusalem al-Quds as Israel's so-called capital.