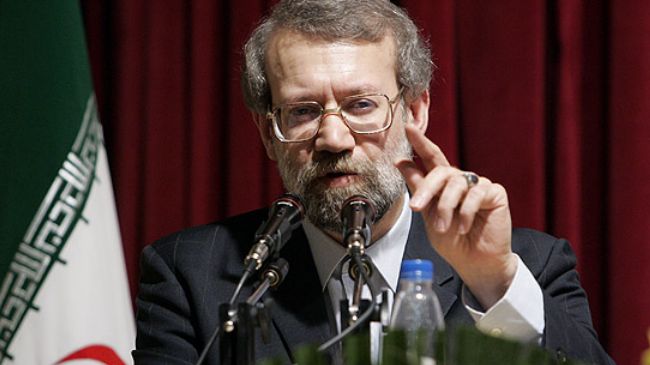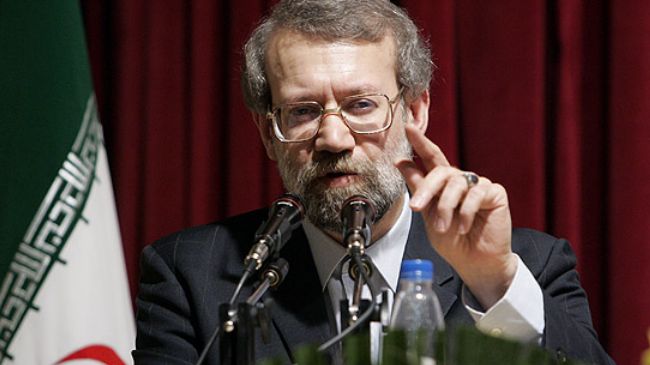 Iran's Majlis Speaker Ali Larijani says Israel has been experiencing an unprecedented isolation against the backdrop of the growing tide of Islamic Awakening in the Arab world.
"Today, the occupying Israeli regime has become more isolated than ever and the emergence of the Islamic revolutions in the region has intensified this isolation," said Larijani at a Saturday meeting with Maher al-Taher, a member of the Political Bureau of the Popular Front for the Liberation of Palestine, in the Iranian Capital city, Tehran.
"The existing conditions of the Islamic world require the Muslims to adopt a united front against the occupying policies of the Israeli regime by maintaining their unity," he added.
Larijani noted that the enemies have concerted their efforts to put obstacles in the way of the Muslim nations, as the Arab revolutions are making headway towards ultimate victory.
The Majlis speaker pointed to the Syrian crisis and argued that since Syria has been at the frontline of resistance against Israel over the past decades, the country has become the target of the enemies' hostility.
Tehran believes that Syria should be given an opportunity to settle its domestic issues through the implementation of democratic reforms, he added.
Syria has been experiencing unrest since mid-March 2011. The violence has claimed the lives of many people, including security forces.
Damascus blames 'outlaws, saboteurs, and armed terrorist groups' for the unrest, asserting that it is being orchestrated from abroad.
The West and the Syrian opposition, however, accuse the government of killing protesters.
Taher, for his part, hailed Iran's support for Palestine's resistance against Israel as the result of the Islamic beliefs of the Iranian nation and government.
He warned of the plots hatched by the US, Israel and the West to hijack the popular uprisings in the region and called for unity and vigilance against such schemes.