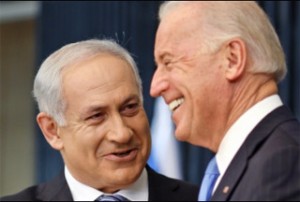 US Vice President Joe Biden dismisses the notion that Israel might attack Iran, saying that Tel Aviv has agreed to await the outcome of new sanctions against Tehran.
"Everyone from the Israeli prime minister straight through to the British prime minister to the president of Russia, everyone agrees the next step we should take is the UN sanction route," Biden told a program on ABC television on Thursday.
"I believe you will see a sanction regime coming out by the end of this month, beginning of next month," the US vice president said.
Asked whether Washington was worried about any Israeli attack on Iran, he said, "They're not going to do that."
"They've agreed the next step is the step we — the president of the United States — have initiated in conjunction with European powers, the NATO powers," Biden said.
Israel, which is the only entity in the Middle East that possesses nuclear weapons, has repeatedly voiced its determination to halt Iran's nuclear program, even through military means.