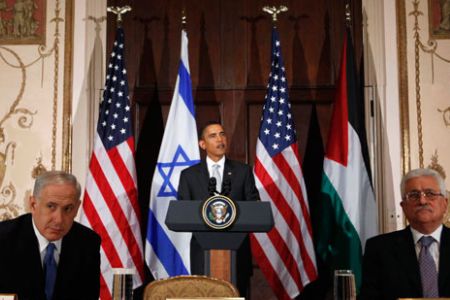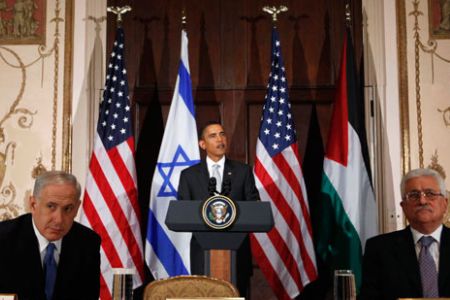 Israel and the Palestinian Authority have agreed to resume the long-stalled direct peace negotiations under the mediation of the United States.
A senior member of the Palestine Liberation Organization, Mohammed Dahlan, said on Friday that the Palestinian Authority had accepted the invitation for direct talks since it contained "many guarantees for the Palestinians."
"We are going based on the Palestinian conditions and not the
[Israeli Prime Minister Benjamin] Netanyahu conditions," he added.
The accouchement came after US Secretary of State Hillary Clinton invited Netanyahu and acting Palestinian Authority chief Mahmoud Abbas for direct talks in Washington on September 2, 2010.
The US President Barack Obama will host the face-to-face talks.
Egyptian President Hosni Mubarak and Jordan's King Abdullah II are also invited to attend the meeting "in view of their critical role in this effort."
"Their continued leadership and commitment to peace will be essential to our success," Clinton told a press conference, adding that Washington expects the two sides to end their long-running conflict and reach a deal in one year.
The new US plan has apparently ignored the Palestinian Authority's demand for the resumption of direct peace talks with the top US diplomat and says the negotiations "should take place without preconditions and be characterized by good faith and a commitment to their success."
The Palestinian Authority has repeatedly said that it will only join direct talks with Israel after Tel Aviv ends the expansion of illegal Jewish settlements in the West Bank and accepts a full Israeli withdrawal to the borders of 1967.
The Israeli prime minister welcomed the US invitation and expressed his satisfaction with the US decision to arrange the meeting "without preconditions."