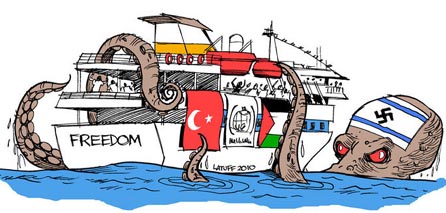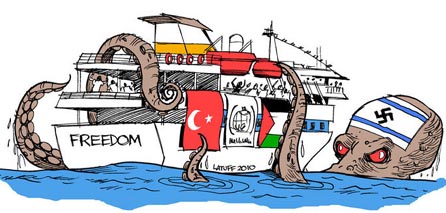 Israel threatened Tuesday not to cooperate with the UN committee of experts assigned to investigate into the deadly attack by Israel naval commandos on a Gaza-bound aid flotilla that ended in dozens of deaths and injuries, when the committee called on three soldiers involved in the incident for questioning.
Nir Hefetz, spokesman for Israeli Prime Minister Benjamin Netanyahu, stated clearly that Israel will not cooperate or participate in a committee that can call on its soldiers for interrogations.
Israel recently signed a bilateral agreement with the UN whereby the latter would not interrogate Israeli soldiers involved in the incident, an informed Israeli source said. But UN Secretary General Ban Ki-moon denied there being an agreement that rules out the possibility of the committee questioning individual members of the Israeli military units in question.
In related developments, the Brussels-based European campaign to end the siege on Gaza released a statement Tuesday ruling out Benjamin Netanyahu's claims that Israeli forces acted according to international law in its assault against the activists on board the Freedom Flotilla, confirming that the entire world witnessed with its own eyes the ugly details of the crime.
Netanyahu's statements to the Israeli Turkel investigation committee are a clear confession to the crime against the international ships, the campaign said, adding that Netanyahu should be prosecuted by the International Criminal Court.
The campaign said the UN committee must be independent, professional, and not bias to the aggressor, showing concerns that Israel may manipulate the progression of the UN probe, which will begin Tuesday.