Lebanon
Israel the Enemy of Humanity quivers before Hezbollah military experience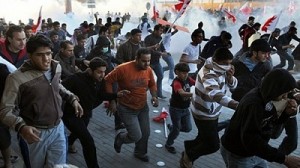 Israel's military has detected a redeployment of the Iranian-sponsored Hezbollah amid heightened fears of war. Officials said the military determined that Hezbollah stationed troops as well as assets along the Lebanese border with Israel.
Israel quivers before Hezbollah military experience
They said the Hezbollah redeployment, amid its military intervention in neighbouring Syria, was meant to facilitate any surprise attack on the Jewish state.
"Hezbollah's involvement in the war in Syria has not disrupted its preparedness for a war with Israel," Israel Army Col. Yaron Formosa said.
Formosa, chief artillery officer of the Army's Northern Command, said Hezbollah has improved its military capability amid the civil war in Syria. He said Hezbollah gunners have gained proficiency in Syria and could now strike Israeli main battle tanks and other assets.
"We saw them marking the positions of our artillery guns so they can target them in a war," Formosa told Israel's news website Ynet. "As a counter-measure we are building embankments to protect the weapons and ammunition."
Officials said Hezbollah has formed at least five battalions trained to attack Israel. They said the Sunni revolt in Syria marked the first major test of Hezbollah's infantry battalions and special operations forces.
"Hezbollah's weak point has always been its infantry," an official said.
"The war in Syria has changed all that, and Hezbollah now can launch battalion-sized operations."
Hezbollah was said to have also brought rockets and missiles closer to the Israeli border.
Officials said the Iranian proxy possessed up to 70,000 missiles and rockets, including those with a range of up to 300 kilometres. This could enable Hezbollah to fire up to 1,500 missiles and rockets per day into Israel.
"They are continuing to prepare for a war against us, and an isolated incident on the border can lead to collapse," Formosa said. "We are prepared to go to war even tomorrow morning."
One scenario envisioned by the Israeli military was a Hezbollah missile attack from towns and villages throughout southern Lebanon. Officials said Hezbollah could also use human shields to stop any Israel Army advance.
"Hezbollah may purposely prevent the civilians from fleeing to the north," Formosa said.