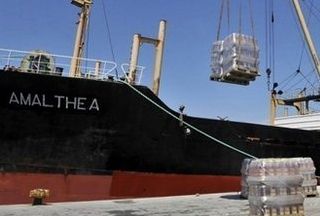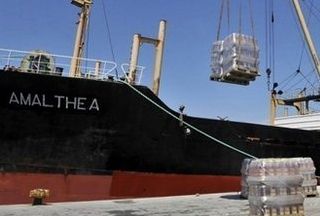 The Israeli navy has threatened to take action, should the Gaza-bound Libyan aid ship refuse to change course, says an organizer onboard the vessel.
"Israeli authorities have given us until midnight tonight to change course and head to the (Egyptian) port of El-Arish, otherwise they are threatening to intercept the boat with their navy," Mashallah Zwei was quoted by AFP as saying on Tuesday.
Earlier in the day, the Israeli navy intercepted the ship, the Amalthea, which seeks to deliver humanitarian supplies to the besieged people of Gaza.
An Israeli military spokesman said, "The navy has begun preparations for stopping the ship, should it attempt to violate the naval blockade."
Libya's Gaddafi International Charity and Development Association, headed by the second son of Libyan leader Muammar Gaddafi, organized the Moldovan-flagged Amalthea.
The aid ship set sail from the Greek port of Lavrio with 12 crewmembers and 2,000 tons of relief supplies and is expected to reach the Gaza shore on Tuesday night.
In May, a flotilla of almost a dozen ships carrying aid to Palestinians was attacked in international waters by Israeli commandos. The brutal attack left at least nine activists dead and 50 others wounded.