Palestine
Israel will not break our will: Hamas resistance movement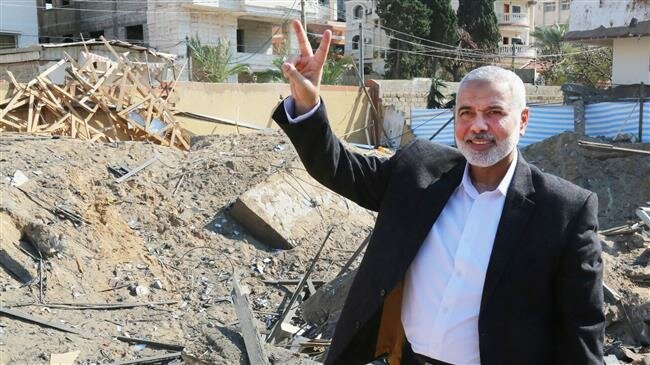 A senior leader of the Palestinian resistance movement, Hamas, says Palestinians will not give up resistance in the face of Israeli aggression.
"The occupation should not be under the illusion it can break the will of our people," Ismail Haniyeh, the head of Hamas' political bureau, said on Wednesday, referring to Israel.
Haniyeh said his group taught a lesson to Israel in the current escalation of violence, adding that Israel got the message.
"The resistance has had the last word, and Israel got the message," he said. "I am grateful to all parties who helped stop the Zionist arrogance in the Gaza Strip."
He made the comments following two consecutive nights of heavy Israeli bombardments.
The new Israeli aggression against the coastal enclave began after Tel Aviv authorities said on Monday that a long-range rocket launched from the Gaza Strip had struck an area near Tel Aviv in central Israel, wounding seven people.
The early morning attack on Mishmeret, an agricultural town north of Tel Aviv, came a day after Israeli warplanes bombed the besieged enclave ahead of the anniversary of Gaza fence protests at the weekend.
Palestinian resistance groups on Wednesday fired rockets into Israel in response to the regime's airstrikes on several areas, including the town of Khan Yunis and the Rafah border crossing south of the Gaza city.
Palestinian sources in the Gaza Strip say Israeli airstrikes on Rafah damaged residential homes and electricity network.
Israel has also warned that it is prepared for further military actions in the Palestinian territories.
The Israeli military has also deployed artillery and tank brigades along the so-called buffer zone with Gaza.
Elsewhere in his remarks, Hanieyh also urged Gazans to participate in mass protests along the fence separating the Gaza Strip from the occupied territories on Saturday to mark the first anniversary of the Great March of Return that began on March 30 last year.
More than 260 Palestinians have been killed by Israeli forces ever since the anti-occupation protest rallies began in the Gaza Strip. Over 26,000 Palestinians have also sustained injuries.
The Gaza clashes reached their peak on May 14 last year, on the eve of the 70th anniversary of Nakba Day (Day of Catastrophe), which coincided that year with the US embassy relocation from Tel Aviv to occupied East Jerusalem al-Quds.