Palestine
Israeli forces kill three Palestinians as tensions build up in West Bank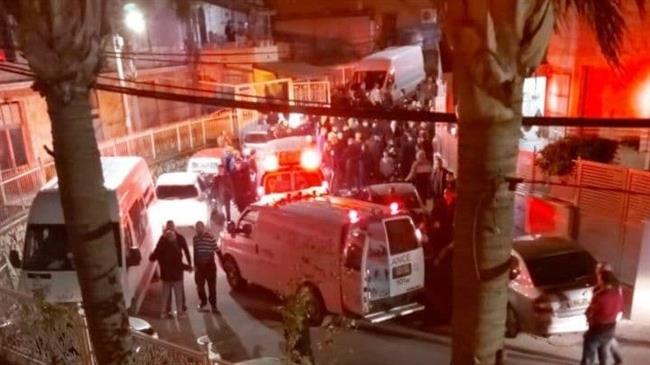 Israeli forces have shot and killed three young Palestinians during overnight raids of several areas of the occupied West Bank and confrontations with the residents.
Two of the two victims lost their lives when they were shot by Israeli police forces in the al-Fawqah neighborhood of Tamra city, which lies in the northern district of the occupied territories, late on Monday, Palestinian media reported.
Explaining the crime, Israeli police claimed in a statement that they were dealing with an incident, in which two masked men had fired shots at a house in the al-Fawqah neighborhood.
Israeli forces then opened fire randomly in the area, killing two passersby and wounding two others.
Al-Zahrawi Medical Center stated that 4 people had suffered injuries in the incident, of whom two succumbed to their serious gunshot wounds shortly afterwards. The condition of two other Palestinians has been described as serious and moderate.
It became clear later that one of the victims was university student Ahmed Hegazy, who was together with a friend at the time of the shooting and had nothing to do with the incident.
Hundreds of Tamra residents demonstrated at the entrance to the city in the aftermath of the shooting, and closed Street 70 in a show of rage.
Clashes then broke out between Palestinians and Israeli forces, who fired stun grenades as well as tear gas canisters in return to disperse the crowd.
Tamra municipality also held an emergency meeting and a general strike was declared in the city, starting from Tuesday.
The development took place only hours after 33-year-old Palestinian Adham Fouad Bzeih was shot and critically wounded in the city of Nazareth.
He was taken in critical condition to hospital, and medical staff pronounced his death after all attempts to save his life failed.
The Israeli police, however, claimed that Bzeih, in his twenties, was killed by unidentified gunfire.
Also on Tuesday, two young Palestinian men were shot and injured by Israeli military forces during clashes in Kafr Malik town, located 17 kilometers northeast of Ramallah.
Arabic-language Palestine al-Aan news agency, citing local sources, reported that they were wounded by rubber-coated steel bullets in the foot and thigh.
Israeli forces regularly storm Palestinian towns in the West Bank to make arrests, prompting clashes with locals.
Tel Aviv has been criticized for its extensive use of lethal force against and extrajudicial killing of Palestinians who do not pose an immediate threat to the occupation forces or to the Israeli settlers.