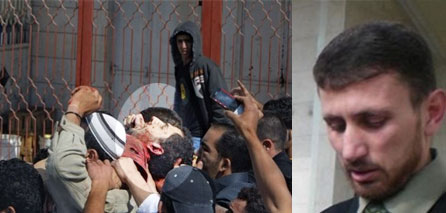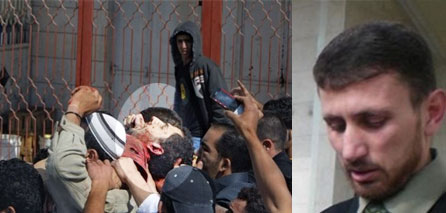 Al Qassam Brigades, the military wing of Islamic Resistance Movement Hamas, mourned the martyrs Nashat Al Karmi and Mamon Al Natsheh who were martyred during the Zionist invasion in the city of Al Khalil southern the West Bank.
The correspondent of Al-Qassam website in Al Khalil confirmed the martyrdom of the two leaders, and the detention of 10 others during a massive military invasion lasted for about eight hours carried out by the occupation forces in Al Khalil city.
The Israeli occupation forces reinforced by more than 40 military vehicles accompanied by a number of bulldozers and under an intensive flight of helicopters, began military invasion, the most in recent months, focused on "Jawhar" Mount in Al Khalil.
Local sources said that Israeli forces besieged a house belonging to Sadi Burqan and the homes of relatives in the area, and asked them through loudspeakers to go out to the street, before pounding the house with machine guns and missiles.
The sources added that the bulldozers approached the house and demolished parts of it, as it was observed that the Israeli soldiers hesitated to storm the house, where the mujahedeen holed up inside.
The sources said that Israeli occupation forces have spread throughout the region and launched a campaign of detentions ended with at least 10 people. Some of them are: Najib Taha, Helmi Zaru, Mohammad Rajabi, Musab al-Atrash, Ibrahim Abu Rumoz in.
Angry Funeral
Thousands of citizens managed to recover the bodies of the two martyrs who was killed by the Israeli occupation forces during the attack.
Witnesses said to our correspondent that hundreds of people threw stones and empty bottles towards the IOF positioned near the bodies of martyrs and forced them to back off a little, allowing the residents access to the bodies of martyrs leaders Karmi and Natsheh.
Witnesses said that the masses of mourners took the bodies to a nearby hospital from the School of Tariq ibn Ziyad and then transferred them to the mosque, stating that the masses chanted slogans demanding revenge for the blood of the martyrs and the condemnation of collaborators who participated in the crime.