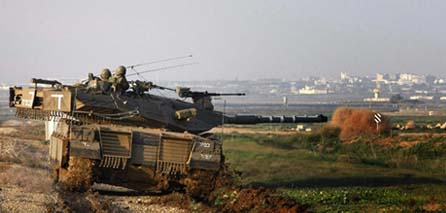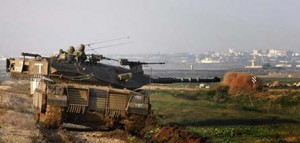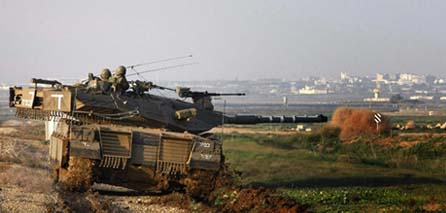 Israeli military vehicles invaded Eastern of Gaza Strip in Khuza'a village near Khan Younis city, Tuesday morning 15th of June 2010.
Palestinian resources mentioned that three bulldozers accompanied with four tanks invaded Eastern of Khan Younis city causing massive destruction .
Israeli occupation forces started massive curettage, causing huge destruction and devastation in the area.
Witnesses said , Israeli military vehicles have invaded 400m inside Palestinian territories in Gaza.
Israeli occupation forces invaded the area under intensive gunfire, what caused of destruction of Palestinians homes , farms and properties.
Medical resources announced no injuries during the Israeli incursion.
Israeli occupation forces imposes what so-called security zone at Gaza borders with the occupied territories of 48, preventing Palestinian farmers alongside the borders from planting their farms or even from living on their own lands.
Israel is still imposing unjust siege on Gaza, preventing medications, reconstruction material and many other humanitarian supplies from entering to Gaza Strip.
International community slammed Israel for it's siege on Gaza people saying that this illegal siege should be broken very soon.
Meanwhile, Red Cross condemned Israeli siege on Gaza called Israel to stop it's illegal siege imposed for political reasons.