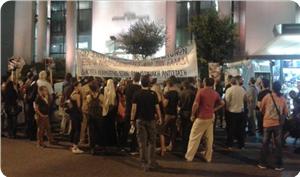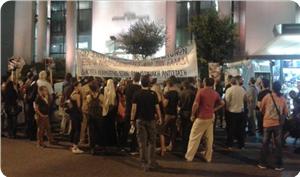 Dozens of Greek Pro-Palestinian activists took to Athens streets, slamming a Greek cultural institution over having hosted a theatrical performance staged by an Israeli troupe.
The protestors gathered in front of the headquarters of the Athens-based Michael Cacoyannis Foundation to voice their disapproval over the free daily show performed by the Hebrew university of Jerusalem and expected to keep going until Saturday.
The marchers waved Palestinian flags and lifted banners denouncing Israeli genocides against Gaza's innocent children. The demonstrators further burned the Israeli flags, shouting slogans of the type: "No to the criminal's culture" and "Israeli Nazis must be kicked out of Greece".
The rally further called for closing down the Israeli embassy in Athens.
"The protest came to make Israelis reckon that they have become unwelcome wherever they are and that they shall never be at peace wherever they go," activist in the Greek pro-Palestine Solidarity Network, Sana al-Kacem, told al-Jazeera net.
The pro-Palestine activists warned the Cacoyannis institution against abusing culture to "whitewash Israel's crimes and atrocities against Palestinian civilians," al-Kacem further reported.
She spoke out against the establishment of the Israeli Jewish university over the occupied Palestinian territories and at the expense of the rights of its own native owners, which "stands in sharp contrast with the international law."
In the words of left-wing activist Stavros Sagriotis the Israelis who have been present at the Cacoyannis foundation are "members of the Mossad."
Sagriotis expressed his great disappointment at having set the stage for such an Israeli show over a theatre bearing the name of the legendary Michalis Cacoyannis, who has historically been known for his sympathy with the Palestinian people.
Sagriotis denounced the racist slogans voiced by Israelis passing by near the event as they said verbatim: "we will cut off your heads" and "It's good that we have killed your children in Gaza" in an offensive affront targeting the peaceful pro-Palestine protestors.
The activist further raised concerns over the mounting Greece-Israel socio-political collaborations and slammed the Greek authorities for their apathy regarding the agony of the Palestinian people.
"But Greeks, who have fought for their freedom, know perfectly well what the Palestinians have been made to endure under Israel's colonizing grips," he added.