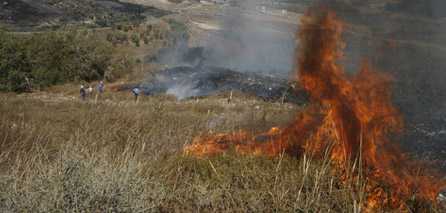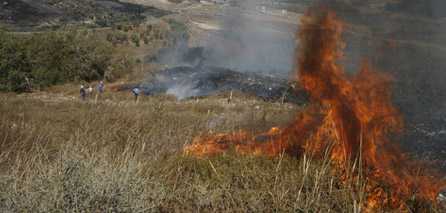 Tens of Israeli settlers attacked Thursday morning the Palestinian village of Buwairah, east of Al-Khalil city, and burned tens of grapevine trees belonging to Palestinian farmers, local sources confirmed.
According to the sources, the settlers were reportedly angry after they were evacuated by the IOF troops from parts of the village after they had illegally put up a number of settlement units on it.
Palestinian farmers tried to defend their land but fully-geared IOF troops who arrived at the scene blocked them and provided full protection to the Zionist gangs to go ahead with the rampage.
On Wednesday, some 500 Israeli settlers arrived at Joseph tomb, east of Nablus city, and performed religious rites there before they withdraw from the area.
Eyewitnesses in the area revealed that a number of buses ferried the settlers under the watching eyes of the IOF troops that provided protection for them.
The settlers claim that the tomb is for prophet Joseph, while Palestinian narrations confirm that the grave was for a virtuous Palestinian man called Yousef Dweekat.
The place was an Israeli army post before it withdrew from it after the eruption of the Aqsa intifada in 2000. However, Palestinian citizens fear the Israeli occupation might return to the place as settlers' assaults on it escalate.