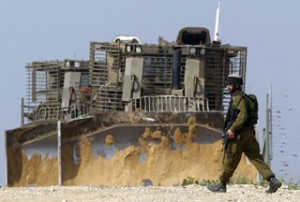 Israeli tanks and bulldozers have invaded the Abassan al-Mubra village in the southern district of Gaza Strip, destroying a number of Palestinian farm lands.
The tanks also opened fire at residential homes on Thursday as bulldozers uprooted trees and destroyed farm lands owned by local Palestinian farmers, witnesses told Palestine's Maan news agency.
Israeli tanks frequently invade border areas in the Gaza Strip and destroy lands with the aim to create a security buffer zone along the Israeli-Gaza border.
Meanwhile, in yet another invasion of the northern West Bank, Israeli troops entered the region and detained fifteen Palestinian civilians in the early hours of Thursday.
Local sources reported that in Jenin, a villager sustained light injuries after soldiers attacked him while on his way to work.
In the city of Jenin, Israeli troops detained three men. Another six teenagers were taken away by soldiers during house-to-house search, targeting the village of Azon near Qalqilia.
Three men and three teenagers were also detained from the village of Taqua near Beit Lahm (Bethlehem).
The Israeli army radio announced that all the 15 detained on Thursday were taken to military detention camps for questioning.