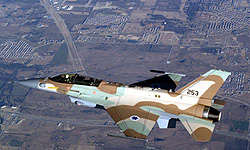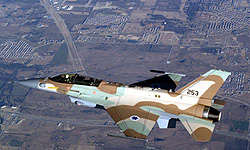 Israeli F16 war jets struck on Sunday night an empty building under construction East of al-Bureij refugee camp in the central Gaza Strip, with no injuries reported, security sources and paramedics said.
The warplanes hovered over the coastal enclave at night and fired one missile at the building, which was leveled to ground, said the security sources, adding that residents in the refugee camp heard a huge explosion in the area, Xinhua reported.
Paramedics who rushed to the area after the missile hit the building said no injuries were reported but severe damage was caused to the building.
Meantime, the Israeli Radio said that Palestinian combatants have fired rockets at the Southern Israeli city of Beer Sheba.
According to the report, four Grad rockets were fired from the Gaza Strip and landed at the Southern neighborhood of the Israeli city, causing no injuries.
The pro-Hamas Popular Resistance Committees (PRC) said in a leaflet emailed to reporters that its combatants fired the grad rockets from the Gaza Strip on Southern Israel in response to last night's killing of a Hamas member.
On Saturday night, Israeli war jets struck a group of Palestinians East of the Southern Gaza town of Khan Younis, killing a Hamas member and wounding another.
The Israeli military frequently carries out airstrikes and other attacks on the Gaza Strip, claiming the actions are being conducted for defensive purposes. However, disproportionate force is always used, in violation of international law, and civilians are often killed or injured.