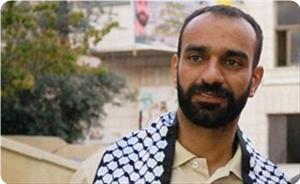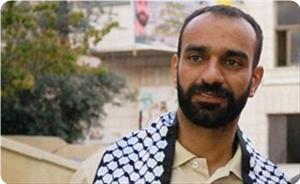 The Palestinian prisoner in Israeli jails, Samer al-Issawi, who went on hunger strike since 141 days, asked in his will that his funeral prayers be performed at the Aqsa Mosque and to be buried next to his brother Fadi, insisting to continue his hunger strike until his release.
The striker prisoner al-Issawi said in a leaked letter to his family that his muscles' aches began to increase, after his body began feeding on the nerves.
He added that he feels pain in the abdomen, kidneys especially the right one, and he suffers from constant headache and burning urination and diarrhea. He said that he started since Friday drinking water and water solutions, and taking vitamin injections. He also told them that he is suffering deterioration in his vision, hair loss, and trembling of the hands.
He added in his letter that he lives in a room with a glass door, so that no doctor could hear his call, and there is no heating or hot water.
He appreciated the efforts of the activists who supported his strike, stressing that he will continue his hunger strike "to the end, until victory."
Al-Issawi said he is defending the dignity of the Palestinian people and martyrs, the suffering of one and a half million in the Gaza Strip who have made sacrifices to accomplish the fulfillment of al-Ahrar deal, stressing that the Jerusalemites in general and the people of Issawiya are harder than flint stone, and refuse any weakness with the occupation.
He criticized the attitude of some international institutions that claim defending freedom, which stand silent before the crimes committed against prisoners of freedom, and his just cause that demands only to be released because he was arrested without guilt only entering the West Bank and Jerusalem, even though it is a part of the deal.