Turkey
Istanbul prosecutor taken hostage by armed group: 2 DHKP-C members killed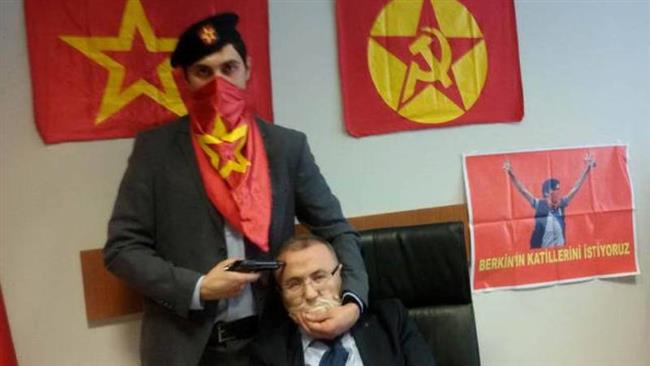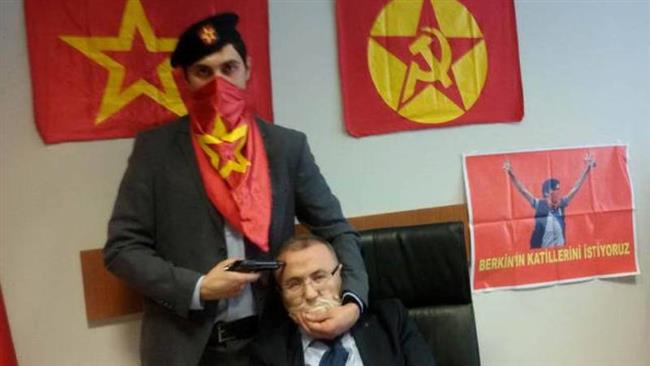 Members of Turkey's Revolutionary People's Liberation Party-Front (DHKP-C) have abducted a prosecutor probing the death of the youngest victim of 2013 mass anti-government protests inside a courthouse in Istanbul.
On Tuesday, DHKP-C gunmen raided the sixth floor of the Caglayan courthouse, and took the prosecutor, Mehmet Selim Kiraz, hostage. Gunshots were also heard at the building.
Kiraz was investigating the killing of Berkin Elvan, who died on March 11, 2014 after spending 269 days in a coma due to injuries inflicted by police in early summer 2013. Elvan was on his way to buy bread when he was caught up in a street protest in Istanbul's Okmeydani neighborhood, in June 2013.
His family blames the then prime minister, Recep Tayyip Erdogan, who is currently the country's president, for their son's death.
The abductors later posted a photo on social media, showing someone pointing a gun at Kiraz's head with a DHKP-C flag hanging in the background.
Special police forces are deployed outside Caglayan courthouse, Istanbul, Turkey, where prosecutor Mehmet Selim Kiraz was taken hostage on March 31, 2015.
Special police forces have been dispatched to the scene and are investigating how the assailants entered the courthouse building with a gun.
According to a report published by the Turkish-language Halkinsesi television network, the kidnappers have given Turkish authorities until 3:36 p.m. local time (1236 GMT) to meet their demands.
Their demands reportedly include a live confession by the police officers suspected of killing Elvan, the prosecution of the officers responsible for the death, acquittal of all people being tried for participation in solidarity rallies for Elvan.
Turkish riot police clash with demonstrators during an anti-government protest in Istanbul, Turkey, on May 31, 2013. © AP
On May 31, 2013, Turkish police broke up a sit-in at Istanbul's Taksim Square against the controversial proposed demolition of Gezi Park in the city.
Nationwide demonstrations were launched against the ruling Justice and Development Party (AKP) and Erdogan, with police using water cannons, tear gas and rubber bullets against the demonstrators.
The former premier, who came under fire over the heavy-handed handling of the demonstrations, described the protesters as vandals, looters or terrorists, and alleged that the demonstrations were part of a plot to topple his government.
Eight people died and hundreds were injured in the protests. The Turkish government also arrested many activists, among them high school students, on charges of inciting unrest.