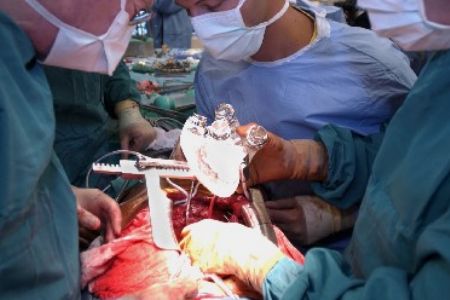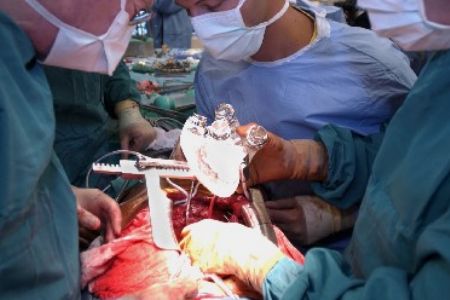 Italian heart surgeons have successfully implanted an artificial heart in the body of a 15-year-old boy during a 10-hour operation.
While temporary artificial hearts are usually used for patients awaiting a suitable human transplant, the unnamed boy was selected to receive the device as he was suffering from an illness that made a long wait impossible.
The world's first boy to receive an artificial heart suffered from muscle-wasting illness Duchenne's syndrome and therefore was not eligible for a heart transplant.
Heart surgeons at Bambino Gesu children's hospital in Rome decided to save his life through implanting an artificial heart for him.
"The device is an electrically activated hydraulic pump and is entirely located inside the thorax, in order to reduce the risk of infection," said Antonio Amodeo, Pediatric cardiac surgeon who carried out the operation.
The artificial heart, which is 2.5 inches long, was placed inside the left ventricle and its connection with the ascending aorta.
"It is powered through a plug positioned behind the left ear and connected to a battery that the patient holds on a belt and is charged during the night like a mobile phone," Amodeo added.
The 90g heart, which is much lighter than the normal adult ones, is expected to give the boy another 20-25 years of "normal life."
The Italian boy is now in the intensive care and is reported to be in good health condition.
"This surgery opens up new horizons as there are many children who need transplants but the number of donors is very small and there are some who like this patient cannot be transplant candidates because of illness," said Amodeo.