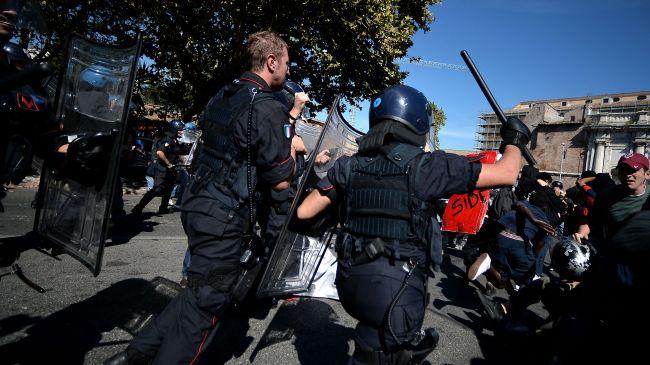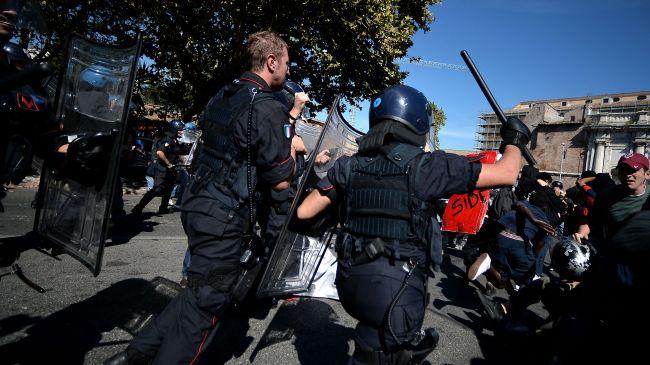 Tens of thousands of Italian school children and students have taken to the streets countrywide to express their anger over austerity measures imposed by Prime Minister Mario Monti's government.
Demonstrations took place on Friday in 90 cities across the country including Rome, Naples, Milan, Turin, Florence and Bologna where young people rallied over tax hikes on university fees and a cut in scholarships.
"We've taken to the streets to denounce the fact that Italy is the country at the heart of the EU with the fewest graduates, (and) the highest school costs," said national coordinator of the Universities Union, Michele Orezzi during the rally in Rome.
"School costs are constantly rising because of the austerity measures imposed by Monti's government," she added.
On October 5, dozens of Italian students were injured in clashes with police during protests against austerity measures in Rome.
Protesters carried banners that read "No to the Crisis and Austerity! Let's take back our Schools and Cities."
Reports said that, at least 15 students were arrested in recent protests.
Over the past decade, Italy has been the slowest growing economy in the eurozone.
The continued recession in the eurozone's third-largest economy is gloomy news for Italians, who have seen a series of austerity packages, tax hikes and pension charges.
The worsening debt crisis has forced the EU governments to adopt harsh austerity measures and tough economic reforms, which have triggered incidents of social unrest and massive protests in many European countries.